'Body Vessel Clay' explores the legacy of Black female ceramic artists
'Body Vessel Clay: Black Women, Ceramics & Contemporary Art' at London's Two Temple Place celebrates past and present pioneers of ceramic art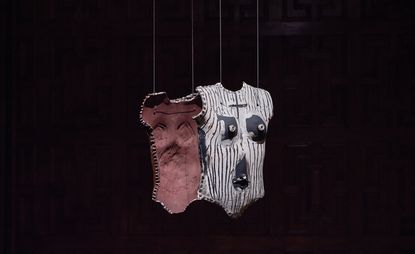 (Image credit: Amit Lennon)
The body remembers, and so does clay. A new exhibition at Two Temple Place titled 'Body Vessel Clay: Black Women, Ceramics & Contemporary Art' looks back at 70 years to recover lost histories of work by Black, female ceramic artists and potters.
Curated by Jareh Das, the London art exhibition brings together eight artists and over 80 works of ceramics, preparatory drawings, film and archival material, which explore post-colonialism, gender and class. Undoubtedly concerned with history, ethnography, lineage and legacy, the exhibition is rooted in the foundations of modernism in Nigeria and begins with one seminal and celebrated figure: Nigerian potter Ladi Kwali.
Body Vessel Clay: Black Women, Ceramics & Contemporary Art
'I grew up in Nigeria in the 1990s', Das says, 'and was reintroduced to Ladi Kwali when the 20 naira note was redesigned to include her image at the throwing wheel on the reverse side.' Not formally trained as an artist, Kwali met pottery through matrilineal, familial lines and eventually made the transition from the domestic setting of Gwari traditional pottery to an international stage, with her work remaining amongst the most sought-after of pieces today.
Das curates a poetic, if unacknowledged, line from Kwali to some notable female ceramic artists of today. From the much-celebrated Magdalene Odundo – who studied directly under Kwali and her contemporaries at the Pottery Training Center in Abuja – to the work of Phoebe Collings-James, Shawanda Corbett, Chinasa Vivian Ezugha, Jade Montserrat, Bisila Noha and Julia Phillips.
Through her hand-built ceramic pieces, Noha is directly engaging with the lost histories of pottery by women from the Global South. Her work looks directly at Ladi Kwali and her Ivorian contemporary, Kouame Kakaha, to uncover and situate herself in a lineage of female makers and artists. Montserrat's film performance is also immersed in the act of remembering. Through repeated movements that re-enact and recall her own childhood in North Yorkshire, the artist uses her own body alongside clay to explore the relationship between the body and the earth.
Julia Phillips' film features an armless torso carrying an invisible weight. Both drudgery and fruits of labour are suggested through images of a growing mound of clay and bare feet in a deepening pit of mud. Chinasa Vivian Ezugha's backbreaking and commanding six-hour performance, Uro, is referenced in the exhibition through photography and a new conceptual sculpture made of clay from the original performance.
Presenting new work, Phoebe Collings-James continues her ongoing study of ceramic forms that explore tenderness, eroticism and tactility through a group of clay torsos that resemble Roman armour plates. Similarly, Shawanda Corbett plays with anthropomorphism in a series of sculptures called The Hood, which takes reductive stereotypes of Black identity and restores them with a dignity and humanity of the artist's own reimagining.
Showcasing functional and ceremonial ceramic forms alongside more open and conceptual ways of approaching clay, the exhibition interrogates wider questions about ceramics and looks at how these pieces move within the spaces of craft, modernism and contemporary art. 'Body Vessel Clay' not only challenges memory and history, it also contemplates the place of the object and the body through time, space and practice.
INFORMATION
'Body Vessel Clay: Black Women, Ceramics and Contemporary Art', is on view until 24 April 2022 at Two Temple Place, London. twotempleplace.org (opens in new tab)
The exhibition will travel to York Art Gallery this summer (24 June – 18 September 2022)