Artist's Palate: Tom Ford's pecan pie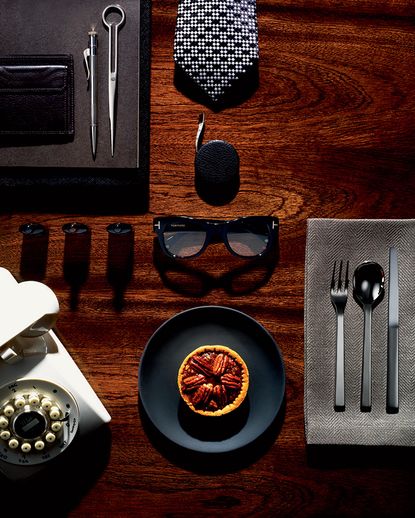 (Image credit: Richard Foster)
Clockwise from top left, wallet, £300, by Tom Ford. Notebook, KRW3,000 ($2.70), by O-Check Design Graphics. 'W1' diary, £250, by Smythson. Sterling silver pen, £390, by Graf von Faber-Castell. Letter opener, £150 for set with scissors; leather tape measure, £25, both by William & Son. Tie, £130, by Tom Ford. Napkin, £25, by Willer. 'Santiago' cutlery, £4 a piece, by Alessi. 'Black Basalt' plate, £55, by Wedgwood. 'Dreyfuss 500' phone, by Wild & Wolf. Black Orchid and Extreme fragrance miniatures, full sizes from £42 for 30 ml, by Tom Ford, from Harrods. Glasses, £225, by Tom Ford. Lifestyle: Emma Moore
Apple pie may have become an American icon, but sticky-sweet pecan pie is the one everyone takes to family gatherings, especially Thanksgiving and Christmas. Some say it has its roots in New Orleans and the meeting of French settlers with Native Americans. More patriotically (try telling the heartland that the French invented pecan pie), the Karocorn syrup people claim the wife of one of their sales directors invented it in the 1930s, and that in some Southern states it is better known as Karo pie. Whatever the truth, the poly-talented Mr Ford (opens in new tab), a Texan who has triumphed in Paris, Milan and Hollywood, has chosen a simple, singular dish.

Ingredients
1 cup of white Karo syrup
1/2 cup brown sugar
2 eggs
1 tsp vanilla
1 tbs flour
1 cup pecans

Method
Beat the eggs and sugar together, add flour, then syrup, vanilla and pecans. Pour into a 9in prepared pie shell. Bake in an oven at 150°C for one hour.