Artist's Palate: Michael Rakowitz's 'Basra Kiss'
Make a date with Iraqi-American artist Michael Rakowitz's sandwich recipe, infused with an Iraqi cuisine staple, as featured in our monthly artist's recipe series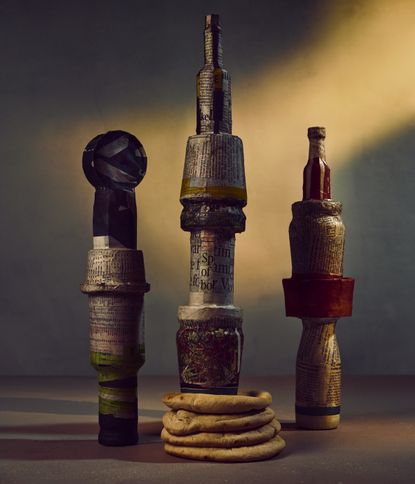 (Image credit: Leandro Farina)
Dates (a prized Iraqi export often smuggled out and relabelled to circumvent international trade restrictions) have long been integral to the work of Iraqi-American artist Michael Rakowitz. Date syrup cans were the building blocks of his Fourth Plinth installation in London in 2018, a replica of a winged bull sculpture destroyed by Isis. A year later, for a solo exhibition at the Whitechapel Gallery, he developed this sandwich for the gallery restaurant, featuring a mixture of date syrup and tahini. Witty, wistful and easy on the palate, it's the perfect embodiment of Rakowitz's practice as artist and cultural provocateur.
Ingredients
2 tablespoons of date syrup
2 tablespoons of tahini
1 large piece of pita or lavash bread, approximately 10" in diameter
4 slices of halloumi or akkawi cheese
1/4 cup of freshly cut mint
Recipe
In a bowl, mix the tahini and date syrup with a spoon. Admire the psychedelic swirls it makes when it begins to blend. In Iraq, this mixture is called dibis wa'rashi.
RELATED STORY
Heat a buttered or oiled pan on the stove on medium heat. Place the halloumi in the pan and fry until both sides turn a sienna brown. Remove from pan to a plate.

Next, spread the date syrup and tahini mixture on the pita or lavash. Place open in the pan on the stove on medium heat. Add the halloumi evenly on top of the date syrup, and finish with the freshly cut mint.

Finally, carefully roll and close the pita up like a burrito, or fold over with a spatula like a quesadilla. Be sure to continue to cook for a few minutes, pressing down on each side like a pressed sandwich.

Cut in half and share.

A version of this article originally appeared in the October 2020 issue of Wallpaper* (W*258) – on newsstands now and available for free download here
INFORMATION
TF Chan is a former editor of Wallpaper* (2020-23), where he was responsible for the monthly print magazine, planning, commissioning, editing and writing long-lead content across all pillars. He also played a leading role in multi-channel editorial franchises, such as Wallpaper's annual Design Awards, Guest Editor takeovers and Next Generation series. He aims to create world-class, visually-driven content while championing diversity, international representation and social impact. TF joined Wallpaper* as an intern in January 2013, and served as its commissioning editor from 2017-20, winning a 30 under 30 New Talent Award from the Professional Publishers' Association. Born and raised in Hong Kong, he holds an undergraduate degree in history from Princeton University.
With contributions from