Artist Michael Rakowitz celebrates the humble date in sweet and sticky cookbook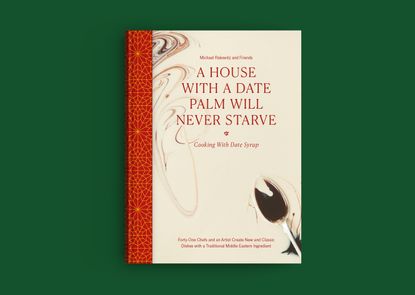 (Image credit: Caroline Irby)
Iraqi-American artist Michael Rakowitz (b.1973) is fond of dates – the sweet sticky type, and the gathering friends together for dinner type. It seemed natural to bring these two pleasures together in a cookbook – A House With A Date Palm Will Never Starve – that is filled with recipes by friends that all include date syrup as an ingredient.

In his work, Rakowitz has used the date as a vessel for exploring politics, culture, migration, trade, and his own family history. From reopening his family's import/export business in Iraq and tracing the journey of a batch of dates from Iraq to the US, to opening up of a date shop for the Iraqi diaspora in New York, and building a sculpture out of 10,000 tins of date syrup in Trafalgar Square – it's safe to say dates are one of his mediums.

Rakowitz has been leaving a sweet and sticky trail across London. His Fourth Plinth commission The invisible enemy should not exist currently resides in one of the most visible places of the city, his Whitechapel Gallery show has recently opened, and his work is included in the V&A's latest show on food and art.
Now, the recipe book is a way for people to taste his work. He sees it as a way to bring date syrup into kitchens and create a wider appreciation for the versatile sugar substitute: 'A wider appreciation for date syrup that will, inshallah, help replant those disappeared date palms in Iraq. Here's to a sweeter future,' he says.

Rakowitz's date export project showed how the Iraqi date industry has suffered at the hands of US politics. Moving beyond art and into social activism like much of his work, the recipe book contributes to Rakowitz's interest in creating awareness of this.
The date is a symbol of happiness and warmth in Iraq – it's the first taste for a newborn, placed in the mouth to bring good things. The title of the book A House With A Date Palm Will Never Starve is a Mesopotamian proverb on how all the date palms elements – the dates, the shade, the leaves and the wood – all combine to make a happy home.

The versatility of the gluten-free, vegan superfood can be seen across the cookbook in traditional Iraqi and new recipes, from marinades and pickles, to cocktails and chutneys. Rakowitz invited Iraqi chefs, such as his mother Yvonne Rakowitz, Linda Dangoor and Philip Juma, alongside international chefs Claudia Roden, Yotam Ottolenghi, Nuno Mendes and Giorgio Locatelli to contribute. Their recipes combine with sketches by Rakowitz, food styling by Olia Hercules and photography by Joe Woodhouse. Read alongside Rakowitz's work, the tome is a culinary adventure through politics, culture and trade, as well as being filled with tasty recipes.
INFORMATION
A House With a Date Palm Will Never Starve: Cooking With Date Syrup, published by Art / Books, £19.95
artbookspublishing.co.uk (opens in new tab)
'Michael Rakowitz', Whitechapel Gallery, until 25 August 2019
A supper club featuring recipes from the book will be held at the Whitechapel Gallery on 26 July
whitechapelgallery.org (opens in new tab)
'FOOD: Bigger than the Plate', V&A Museum, until 20 October 2019
vam.ac.uk (opens in new tab)