Artists celebrate 70 years of the NHS in Britain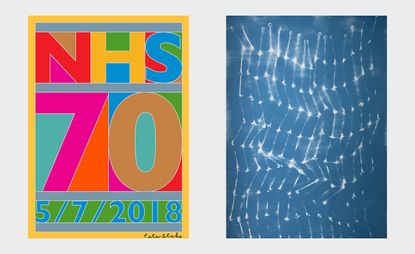 (Image credit: Peter Blake, Mona Hatoum)
The National Health Service (NHS), one of Britain's most cherished institutions, celebrates its 70th anniversary on the 5 July. To commemorate seven decades of universal healthcare – free at the point of delivery and irrespective of wealth – the Imperial Health Charity has tapped seven artists for a limited-edition print sale, with the proceeds benefiting some of the busiest hospitals in London.

The distinct styles of the prints echo the diversity of modern Britain and the NHS, include Peter Blake's vivid colour blocking and bold typography, Mona Hatoum's blue and white skeletal take on bed springs, rendered in a calming palette of blue and white, and Chris Orr's quasi-monochromatic vision of a dynamic London, where nature and industry, exist hand in hand. Other contributing talents include Jeremy Deller, Tom Hammick, Mona Hatoum, David Mach, and Elizabeth Magill.
The Imperial Health Charity, which supports London's Charing Cross, Hammersmith, Queen Charlotte's and Chelsea, St Mary's, and Western Eye hospitals, seeks to unite the patients and staff through the medium of art, with a 2,000-strong collection of artworks that foster a friendly environment for patients, often in midst of daunting medical experiences. It also provides vital funding for medical equipment and research into clinical innovation. Over the past nine years it has raised an astounding £34 million.

David Mach RA, who is a member of the Imperial Health Charity's art committee says, 'The way we look after each other in this truly national institution is something we can be rightly proud of in the UK. We can be proud too of art and how it plays a vital role in healthcare.'

Purdy Hicks Gallery in London's South Kensington will host a reception for the debut of these prints on 4 July, where the prints will first go on sale. The prints, produced by Worton Hall Studios will also be available on CCA Galleries' website (opens in new tab).
INFORMATION
The prints available to purchase online through CCA Galleries (opens in new tab). For more information, visit the Imperial Health Charity website (opens in new tab)