Art and architecture collide in Antony Gormley's exhibition at Hong Kong's White Cube gallery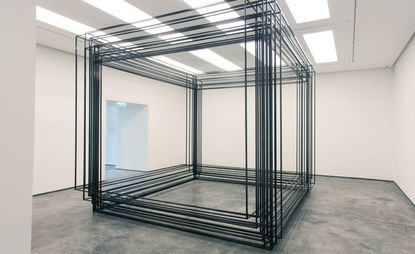 (Image credit: Vincent Tsan)
British sculptor Antony Gormley's latest exhibition at Hong Kong's White Cube gallery (opens in new tab) is a continuation of the artist's lifelong investigation of spatial awareness using his trademark abstract iron and steel sculptures to transform an exhibition space into a 'psychic and physiological testing ground.'

'It is,' he stresses, 'the opposite of putting objects of high aesthetic value in a shop and then asking people to take them home. It is instead about turning the space into a reflective experience so they can then go out onto the street and look at the environment in a different way.'

The eleven works arranged throughout the gallery, including stairways and passages, include smaller standalone sculptures like 'Gut XIII', a disconcertingly unstable 'blockwork' that evokes the architectural metaphor of the body as a building, and 'Ease', an enormous iron sculpture designed to obstruct the gallery entrance. The standout piece is undoubtedly 'Murmur,' a multiple 'space-frame' that fills the entire ground floor space channeling viewers into a narrow passage between the walls and the frame's central void.

'I think that art has to return us to our inner selves. We must think about the body less as an object that can be sexualized or idealized and more as a place, a location, a condition,' says Gormley.

The artist credits Hong Kong as the inspiration for the exhibition.

'It is a very good place to think about the human habitat. Why has our species chosen to concentrate itself in these high density environments and what does that tell us about our relationship to our fellow man?'

Gormley, who has visited the city frequently over the past decade, is fascinated by the juxtaposition of the city's extreme built environment and untouched nature, elements he says are reflected in six new works created specially for the show. Of these, 'Place II', an ethereal human form created from slender stainless steel bars and presented in the gallery's private viewing room, certainly captures Hong Kong's unique urban dichotomy.

Gormley recommends viewing the works away from the crowds that usually flock to gallery openings.
'In my view openings are the best way to ignore art. The whole principle is to use the show as a space and if there are bodies all over the place it won't work as well. It is the viewer's movement through the coordinates of the space of the gallery that is the real subject. It is what is happening within the viewer, not the objects in the gallery.'
ADDRESS
White Cube Hong Kong (opens in new tab)
50 Connaught Road Central
Hong Kong
VIEW GOOGLE MAPS (opens in new tab)