Anj Smith explores the beauty of nature's ugliness in new solo exhibition
Artist Anj Smith explores the beauty of nature's ugliness in her new solo exhibition at Hauser & Wirth London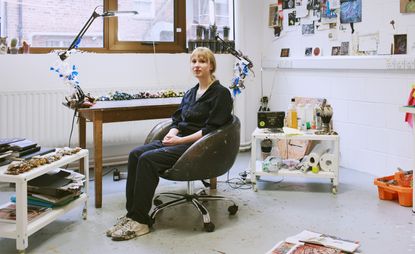 (Image credit: Jessica Klingelfuss)
Anj Smith's north London studio is a sanctuary of organised chaos. On the floor, a vast array of art, photography and fashion books lay splayed open, providing endless visual fodder as she paints. Atop the windowsill, a mini-shrine to every paintbrush used and dutifully retired; and then there's her well-loved, paint-splattered drafting table, fortified with an impeccably arranged medley of paint tubes.

Look closely and you'll find there's an undeniable order threading all this together. The same can be said of the Kent-born artist's intricate paintings, which are going on show this week at Hauser & Wirth London, part of Smith's first solo exhibition in the city since 2011.

Entitled 'Phosphor on the Palms' (a phrase plucked from Wallace Steven's poem, Fabliau of Florida), this latest exhibition sees the artist think uncharacteristically big in both scale – there are a number of paintings boldly larger than previous paintings – and volume (21 paintings here, versus her previous New York showing of 14).

Exploring notions of nature, subculture, psychology, death, gender and more, the themes behind her rich paintings are as dark and diverse as the works themselves. Smith's highly detailed paintings are the rare sort that infinitely rewards the viewer upon multiple examinations. It may take years for even a collector to notice a particular detail, and in spite of the oft-morbid subject matter, there's a great deal of humour embedded in the paintings.

Several readings of Museum Tree (2015) finally revealed pompoms dangling from a tree and a happy declaration for Fridays; a closer look at Cammo (2015) exposes her subject sporting rose-tinted aviators; and in the disarmingly miniature work Uncurtaining the Night (2014), paint oozes down past the confines of the canvas. It's not just the impossibly small scale of Smith's work that draws her audience in, but also the anticipation of previously unnoticed details becoming apparent.

Smith's studio, too, makes a cameo appearance at the exhibition as part of a new initiative devised by Hauser & Wirth Publications. In the 'Book & Printed Matter Laboratory', a life-size photograph of Smith's workspace can be found along with a selection of her reference library, offering a unique view into her world.

We caught up with the artist to find out more about her latest exhibition…

Wallpaper*: Tell us about the title of the exhibition, 'Phosphor on the Palms', and the Wallace Stevens poem that inspired it?
Anj Smith: There is no literal or singular narrative in these works, but fragments that layer up, from a myriad of sources. Zoology, psychological states, botany, the history of painting, the mechanics of language, fetishism, fashion and archaeology, to name but a few. However, running throughout all these ideas in some form or another, is a rejection of neat and easy certainties and an embrace of disintegrating or newly morphing thresholds. It's at the very heart of the series and it made sense to title the work with this in mind, drawing all the disparate threads together. The poem seems to embrace a similar sense of liminality, in this case in the portrait of a beach scene where the clouds and surf scum appear indistinguishable. It could be considered quite a bleak poem in that the sublime that the Romanics found in nature only shows up relocated in a debased form - not a rainbow in the sky but a chemical smear caught in the branches of beach detritus. As the same time, it does appear!

Your works are peppered with contemporary motifs, an Alexander McQueen collar, for example.
Sometimes the works evolve from a really abstract kernel of an idea and it's hard to define exactly what happens. But with this painting, I remember the thunderbolt, it was in the Prado and I was looking at an insanely lavish Cranach. Repetitive marks in the clothing seemed ambiguous, conferring the status and virility of the subject on the one hand but also undermined the sitter somehow, in his wish to be thus acknowledged. I felt completely seduced by the spikiness in the psychology of the painting. It made me think about the power of repetition and it chimed perfectly with what I was about to start working on - ideas about neurosis, obsession and fragile mental states. I'm not interested in style or skill but employing paint conceptually. The faux-punk McQueen cowls were made from hundreds of zips, so leant themselves to a zone of intense repetition. I painted each tiny tooth from each zip, which took months.

What fuels the androgyny of your subjects?
I have been a feminist ever since my father explained inequality to me and my four sisters as very small children. However I feel that some of the traditional arguments about setting out a binary equality now don't go far enough. I've always been interested in writers like Judith Butler, who talks about preforming gender and also about these things being malleable. Then a decade ago, a close friend underwent surgery to become a man, which took years. During this time he remained the person we all knew and loved, but was forced to live without the physical markers he wanted, having lost the female ones he hadn't, which was excruciating. It all made me think about whom we are post or beyond gender, which in turn took on a metaphorical dimension, opening out to consider all the structures that determine our perception of ourselves.

Your subjects' postures are quite unusual - often they're hunched or looking over their shoulders. But it seems there's a sense of more than just a sense of vulnerability at play here?
You're right on both accounts, there is vulnerability in some of the works but also other things, perhaps pre-occupation, isolation, anxiety, desire, altered mental states, awkwardness or an unspecified intensity just as much. This series focuses much more on the interiority of the figures than any previous work, where the external shell was all that was mainly visible.

How do you reconcile the beauty of your works with such dark subject matter?
I'm out to seduce the viewer with ideas that thrill and entice me. I'm not bothered about what might be considered conventionally beautiful or dark. I'm not sure there could ever be a consensus about what constitutes either. Stevens' deconstructed rainbow - the shimmering oil slick washed up on the Florida beach - inspired me to think about re-locating the search for transcendence in the rejected and unlikely.

Do you think you'll ever feel compelled to start painting on larger canvases? Or does working within a small surface liberate the work?
'Phosphor on the Palms' is punctuated with works of different size and scale and including several paintings that are dramatically larger than previous paintings. I have always relished the intimacy of a smaller scale because it can entice the viewer to bend physically into the work. The thoughtful viewer who takes time to linger at close proximity is rewarded by experiencing a totally different painting to that of the casual passer by. But in the three years spent working on this project, I felt a few of the works would explode on a small format so they became larger out of necessity. Sometimes the eye needs more passive space in which to relax in order to fully digest the more frenetic, detailed zones.
INFORMATION
'Phosphor on the Palms' runs until 21 November 2015
ADDRESS
Hauser & Wirth
South Gallery
23 Savile Row
London W1S 2ET