Always a pacesetter: MoMA pays tribute to the early works of Yoko Ono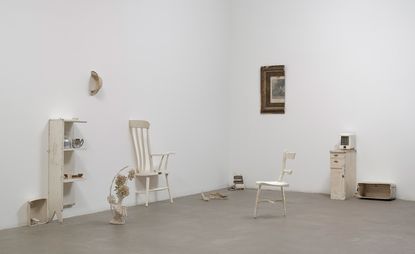 (Image credit: press)
For decades, conceptual and performance artist and experimental filmmaker Yoko Ono has led the pack when it comes to cutting-edge creativity. And now the Museum of Modern Art (opens in new tab) is showcasing her early innovative endeavours with 'Yoko Ono: One Woman Show, 1960-1971'.

MoMA has always been a bit of a home base for Ono's early outside-the-box creations. Back in 1971, she announced her first one-woman show, which she rather irreverently titled 'Museum Of Modern (F)art'. Just outside the museum's front doors, a man touted a sign stating that Ono had released dozens of common houseflies inside and invited visions to witness those winged creatures. MoMA curators were aghast, not least because the show wasn't even prepared for them. That was at a time when MoMA championed virtually no female nor Asian artists.

For this new, comprehensive show, curators Christophe Cherix and the somewhat controversial Klaus Biesenbach - whose Bjork exhibition is still hotly contested by journalists - gathered together one hundred and twenty five of her early objects, installations, performances, audio recordings and films to feature alongside her rarely seen archival materials.

'Central to Ono's work since the 1960s has been her unwavering devotion to revealing beauty in everyday encounters and promoting world peace,' notes Cherix. 'These ideas have remained remarkably current in contemporary art, politics, and society.' For her 1966 'Apple', she placed that solitary piece of fruit on a plexiglas pedestal. Then in 1967 'Half-a-Room' displayed a chair cut right down the middle. Museum goers can also listen to the artist and her Beatle rocker husband John Lennon's Plastic Ono Band.

'During the first decade of her career, Ono played a pioneering role in the international development of Fluxus, Conceptual art, experimental film, and performance art,' adds Cherix. Beyond elevating the ordinary to an art form, Yoko injected a daring participatory element into her groundbreaking work, 'Ono's earliest works were often based on instructions that Ono communicated to viewers in verbal or written form.' Simply consider her pivotal 1964 'Cut Piece' performance when she asked viewers to snip away her clothing while she sat quietly on stage. The film captures that then surprising experience.

For those hankering to take part in her interactive body of work, MoMA offers the perfect opportunity via Ono's 1966 'White Chess Set', where she sought to alter the very rules of that board game. In her version, players work together so that the game can progress.
ADDRESS
Museum of Modern Art (opens in new tab)
11 West 53 Street,
New York, NY 10019