Alex Prager takes us on a dystopian ride through her native Los Angeles
The artist's latest film, Play the Wind, is an unnervingly surreal homage to her hometown featuring protagonists Dimitri Chamblas and Riley Keough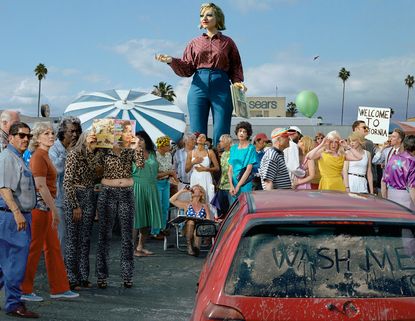 (Image credit: Alex Prager Studio and Lehmann Maupin, New York, Hong Kong, and Seoul.)
Wallpaper* Newsletter
Receive our daily digest of inspiration, escapism and design stories from around the world direct to your inbox
Thank you for signing up to Wallpaper. You will receive a verification email shortly.
There was a problem. Please refresh the page and try again.
Alex Prager's newest film, Play the Wind, showing now through 26 October at Lehmann Maupin's 22nd Street gallery in New York, opens with a quote from Ray Bradbury about the dangers of nostalgia. 'You will never understand time, will you? ... Why do you save those ticket stubs and theater programs? They'll only hurt you later.'

And then the film really opens, or so we think, with Los Angeles, as seen through a car, driven by a man (played by Dimitri Chamblas, dean of the Sharon Disney Lund School of Dance), which is the way everyone knows to see the city but which is somehow – as becomes increasingly clear – different through Prager's lens. The driver rolls through parking lots, past an accident, into a group of people running from an unseen horror. Women see him.

This film is about Los Angeles but also about the ideal of California itself: the golden state, the legend of Calafia, the place where dreams are made and shattered, where the everyday is special and vice versa. Three minutes in, we see the actress Riley Keough standing on a corner and then, immediately, locking eyes with the driver. She's wearing a red dress; they make eye contact.
And then, an extraordinary sequence, on the verge of uncannily and physically too difficult to watch: Keough falls and falls and falls and falls through space and then, we think, time. She bursts through boxes and her clothes disappear. The feeling – and it's a phenomenological feeling – is one of nightmarish vertigo. She falls, white sky turning to blue turning to clouds turning to the most verdant landscape, and she lands, in a green suit she's picked up in the air along the way.

But this is just an account of what happens in the film, and what really happens is that the viewer is constantly invited to know better, to see more clearly, to pay closer attention and to think. Watching the film in the gallery is essential. The film audience watching Keough step in front of a screen reminds the gallery audience of what they're doing, which is watching an artist.

The rest of the show comprises large-format photographs, stills from the film. It's hard not to think of shades of Cindy Sherman in the visceral brightness of it all, or maverick director David Lynch. But it's also hard not to think of Prager as someone forging brand-new territory amid well-trodden ground. Her film is a little sharper, a little brighter, a little more elusive, a little more terrifying (okay, a lot more terrifying). It's more of the now – in its intimations of offscreen violence, in the happenstance of tragedy. The film is of today, purely, in that it articulates and capitalises on the fact that our world is ending, and our world is beautiful. It will only hurt you later.
An excerpt from Play the Wind, exclusive to Wallpaper.com. Courtesy of Alex Prager Studio and Lehmann Maupin, New York, Hong Kong, and Seoul
INFORMATION
'Play the Wind', 5 September – 26 October, Lehmann Maupin. lehmannmaupin.com
ADDRESS
Lehmann Maupin
536 West 22nd Street
New York
Receive our daily digest of inspiration, escapism and design stories from around the world direct to your inbox