A bright new age: the Rijksmuseum reopens after a 10 year renovation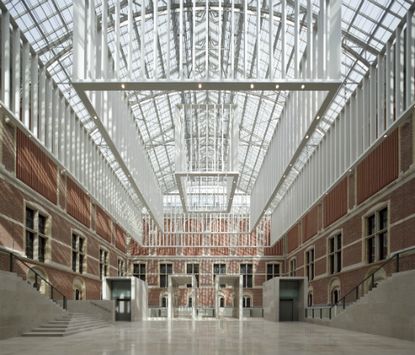 (Image credit: Antonio Cruz and Antonio Ortiz )
Finally, the wait is over. After 10 years, the colossal task of renovating Amsterdam's famous Rijksmuseum (opens in new tab) is complete - its doors reopen to the public tomorrow (13 April). The inauguration ceremony will see Queen Beatrix open the revamped building with an oversized, polished-bronze key and lock designed by Studio Job (opens in new tab) - the official opening ceremony, broadcast internationally, will be one of her last engagements before her abdication at the end of the month.

Its €375m overhaul, funded by the national and local government, restores the Rijksmuseum to its former glory, while installing modern technology for the new century. All the additional floors, added throughout the years to fit office and storage space, have been removed, and the murals and floors returned to their original state.

Wim Pijbes, the Rijksmuseum's young director, sees his task as creating 'new experiences, new concepts, new thinking'. He says: 'A museum today is where you can go see some art, meet some nice people, have a good time, get inspired; this is a place where things happen.'

This idea of innovation and inspiration is key to the Rijksmuseum's new age. In the build up to its relaunch, last November the art museum launched Rijks Studio (opens in new tab) - a groundbreaking new digital collection of 125,000 objects from the museum's collection, accessible to all for free. And to celebrate its unveiling, the museum teamed up with Wallpaper* to host a discussion on digital innovation moderated by our own Editor-in-Chief Tony Chambers, for which we brought together a stellar panel of speakers that included the likes of Christian Borstlap (opens in new tab); Taco Dibbits, director of the Rijksmuseum Collections; Renny Ramakers of Droog (opens in new tab) and Robert Norton, co-founder and CEO of s[edition]. (opens in new tab)

The newly opened museum's 80 galleries showcase its world-famous collection in a sequence that narrates 800 years of Dutch art history, in a single chronological sweep. 'You get a sense of the world in which Rembrandt was producing his art,' says Dibbits. Meanwhile, a new structure in the 7,000 sq m garden, surrounded by a pond, houses the Asian collection.

Seville-based Antonio Cruz and Antonio Ortiz of Cruz y Ortiz (opens in new tab) were the project's head architects. 'It is every architect's ambition to do such a project,' says Ortiz, 'to build a second era for the existing monumental architecture.' Their vision was to provide a sophisticated building that is as understated as the original, built in 1885 and designed by Pierre Cuypers (opens in new tab), was grand.

The former museum was divided into two by a central public passage. In its reincarnation, the architects dug deep to create a huge hall to connect the two atriums. A subtle curve across the hall floor is an architectural ploy to build up expectation for the visitor, while a vast atrium lets natural light flood in. Every detail of the exhibition spaces, from the lighting to the frames, has been carefully thought through.

Lighting plays a huge part in the new museum's story. Thanks to Dutch technology giant Philips (opens in new tab), the Rijksmuseum is entirely lit with LEDs. The same lighting unit, developed specifically for the museum by Philips' researchers in Silicon Valley, was used throughout. With five lenses, two reflectors and nine LED lights, it produces a colourless, crisp white light that can be tweaked precisely to showcase the museum's masterpieces (which include works by Rembrandt, Vermeer and Hals) in the best way possible. Attached to square, linear or circular frames, these LED units create modern-looking chandeliers in all the galleries.

'The lighting unit is not obtrusive; it is invisible in the space,' says Rogier van der Heide, Philips' vice president and chief design officer, who had worked with the heads of presentation, conservators, curators, the architects and interior designer to find a simple yet sophisticated lighting system for the entire museum. On the museum's masterpieces, colour is complex and composed of many different pigments. Under halogen light the earth tone colours could be difficult to render, but the full-spectrum LED units show them in high definition, giving the objects depth and enhancing the texture of the paint.

Going up to the Gallery of Honour on the first floor, one finds that Rembrandt's magnificent 'Night Watch' remains the centrepiece, as before. The gallery offers a sequence of spaces - and a special lighting experience. Restored 19th century murals are housed in a dimmer environment, then one moves into small galleries with diffused and tranquil lighting - a mixture of daylight and carefully curated LED units. Finally, you arrive before the famous painting itself, which basks in an immense space filled with glorious, serene light.

The showcases are made from non-reflective glass glued without frames, which were designed and developed by French interior designer Jean-Michel Wilmotte (opens in new tab), whose credentials include work for the Musée du Louvre and the Musée d'Orsay in Paris. The ultra-transparent glass allows light to reach the objects directly. 'Through technology you see the truth of art, which is the goal of the whole museum,' says van der Heide.

It seems every talent in the country has played his or her part in the museum's renovation. Irma Boom (opens in new tab) has designed a new logo. The uniforms are by fashion designer Alexander van Slobbe (opens in new tab). Droog Design furnished the children's room with a chandelier designed by Richard Hutton and tables and seating by Piet Hein Eek. And classic Dutch furniture, such as Wim Rietveld's lounge chair and Friso Kramer's 'Revolt' chair, is used in the café.

Next, Pjibes plans to bring the two-star Michelin chef Mario Ridder from Rotterdam to the Rijksmuseum. Pijbes has famously curated the slow food festival at the Kunsthal in Rotterdam during the past decade, and he is on a mission to give overseas visitors opportunities to celebrate his country's culture with all five senses.

The Rijksmuseum is a showcase of what this country can do when it really wants something great. Work is not yet finished; this is merely the beginning of a new era for the museum.
ADDRESS
Museumstraat 1
1071 CJ Amsterdam
VIEW GOOGLE MAPS (opens in new tab)
Yoko Choy is the China editor at Wallpaper* magazine, where she has contributed for over a decade. Her work has also been featured in numerous Chinese and international publications. As a creative and communications consultant, Yoko has worked with renowned institutions such as Art Basel and Beijing Design Week, as well as brands such as Hermès and Assouline. With dual bases in Hong Kong and Amsterdam, Yoko is an active participant in design awards judging panels and conferences, where she shares her mission of promoting cross-cultural exchange and translating insights from both the Eastern and Western worlds into a common creative language. Yoko is currently working on several exciting projects, including a sustainable lifestyle concept and a book on Chinese contemporary design.