Robotics and nature entwine in the V&A's beetle-inspired pavilion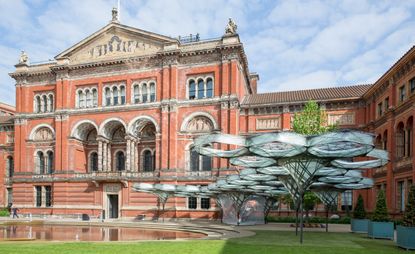 (Image credit: press)
Wallpaper* Newsletter
Receive our daily digest of inspiration, escapism and design stories from around the world direct to your inbox
Thank you for signing up to Wallpaper. You will receive a verification email shortly.
There was a problem. Please refresh the page and try again.
Engineers are too often the unsung heroes of architecture and design, the silent collaborators charged with transforming artistic visions into reality. That is set to change as London's Victoria and Albert Museum kicks off its first ever Engineering Season, launching today with a specially commissioned, site-specific installation in the John Madejski Garden that is both inspired by nature and fashioned by robots.

Conceived by architect Achim Menges, together with Moritz Dörstelmann, structural engineer Jan Knippers and climate engineer Thomas Auer, the newly unveiled 'Elytra Filament Pavilion' comprises an intricate canopy of resin-coated, carbon fibre and glass thread, woven using a unique robotic technique. The pavilion's cellular, lightweight design draws inspiration from its namesake – elytra is a type of hardened forewing typical of beetles and other insect orders.

The project engineers' fascination with biomimicry stems from the staggering potential of construction principles found in nature. The pavilion is the next phase in ongoing collaborative research at the University of Stuttgart's Institute of Computational Design and the Institute of Building Structures and Structural Design – helmed by Menges and Knippers, respectively. 'When we look into rethinking the relation between material and design, nature is a very interesting precedent, because in nature we very often find things that are unexpected in technology,' explained Menges during our recent visit to Stuttgart, where the pavilion cells were produced individually before being installed at the V&A. 'We now have increasingly better ways of understanding the principles of natural construction, better tools to simulate them, and now the capacity to fabricate them.'

With the fourth industrial revolution currently underway, ways in which to exploit new materials are coming ever more to the fore. 'As a structural engineer who grew up in the 1990s with the steel-and-glass architecture of Norman Foster and others, the most transparent, the most daring steel structures were done when this material was only 25 years old,' says Menges. 'Nobody knew how to engineer it, nobody had simulations of anything.' It's this same pioneering spirit Menges and his forward-thinking band of engineers have championed with the 'Elytra Filament Pavilion', reimagining ways to intertwine the laws of robotics and nature.

The pavilion's cells are designed to be modular, and will also evolve and grow over the course of the Engineering Season in response to data collected by embedded optical fibres, which will trace the behaviour and pattern of the canopy's inhabitants. Visitors will have a chance to see new cells being crafted in situ by a Kuka robot (a slow, repetitive process – but one that's strangely hypnotic).

Knippers adds, 'What we try to seek out in these experiments is a set of expressions of the material. Almost all natural load-bearing structures are fibrous composites – although there's an incredible diversity of natural structures, nature only uses very few materials.' To wit, if the pavilion is to be admired for its technical prowess, there's something equally to be said for its aesthetics, from the striking black and mint palette to the intricate pattern of the woven fibres.

The V&A's Engineering Season continues apace in one month's time, when the oeuvre of Ove Arup (1895–1988) takes centre stage, in a major retrospective celebrating the most iconic engineer of the 20th century.
INFORMATION
The V&A's Engineering Season is on view until 6 November. 'Engineering the World: Ove Arup and the Philosophy of Total Design' opens 18 June. For more information, visit the V&A's website
Courtesy of the Victoria and Albert Museum, London
ADDRESS
Victoria and Albert Museum
Cromwell Road
London, SW7 2RL
Receive our daily digest of inspiration, escapism and design stories from around the world direct to your inbox