BIG brings a spectacular twist to a Norwegian sculpture park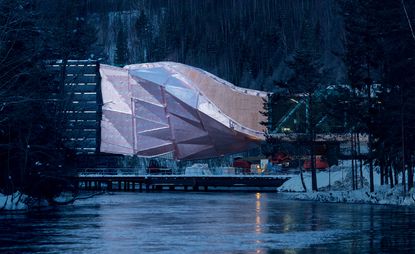 (Image credit: Einar Aslaksen)
About an hour north of Oslo, Kistefos is an industrial museum on the site of a paper pulp mill, founded in 1889 at the dawn of Norway's modern age. It is also a 270,000 sq m sculpture park, with works by the likes of Marc Quinn and Fernando Botero, all from the collection of financier Christen Sveaas, grandson of the mill's founder. Come September, it will become an architectural destination too, as it welcomes a new addition by Bjarke Ingels Group (BIG).

Called the Twist, the new building promises a literal twist in Kistefos' landscape; a simple rectilinear volume spanning the Randselva river, warped 90 degrees near the middle to create a spectacular sculptural form. It completes the loop of the sculpture path around the park, while offering indoor gallery space that will allow greater flexibility in Kistefos' artistic programming (and longer opening dates, too – the museum is currently open in the warmer months only, as winters can be harsh). In the architects' words, it is 'a sculpture, a building, a path in the landscape, and a bridge – all in one'.
For all its drama, the Twist fits comfortably into its natural context. Approaching from the forested north bank of the Randselva, one sees a gently shimmering aluminium form that appears to hover over the ground, lined with full-height windows on perpendicular sides. The effect is minimal, until the eye travels southwards where both glass and aluminium bend – the former makes a smooth transition into a tapering skylight, while the latter is formed of straight elements, each 55mm wide and with small tilts in between to resemble a stack of twisted books. The south end of the building, meanwhile, is windowless and monumental.

Inside, the three sections of the building respectively form a panoramic gallery, with a lower ceiling to focus attention on the view; a twisted interstitial space (officially a gallery, though with a gentle upward slope to align the differing heights of the two river banks); and a voluminous closed gallery, perfect for displaying larger works of art.
Walls and ceilings are clad in local Douglas fir slats, painted white to achieve the pure environment often favoured by contemporary artists, though with wood grains still visible. A concrete stairway leads down from the north panoramic gallery to a basement that appears to exist outside the Twist. The building's brushed, polished and anodised aluminium underside becomes the ceiling, while its concrete bearings are left deliberately exposed. Opposite the toilets, a full-width glass wall offers up generous views of the flowing river, further reinforcing the idea that at Kistefos, art and landscape go hand in hand.

Christen Sveaas had not worked with BIG prior to commissioning the Twist, but was drawn to 'their highly inventive, playful and very elegant proposal' of having a museum as a bridge, streaming the flow of visitors while doubling the park's indoor exhibition space, currently limited to an art hall in a historic building. He calls the Twist 'a very simple and beautiful design, while technically immensely complex to build'.

He goes on to say, 'The new museum building will allow us to put on larger exhibitions of the highest international level. Our ambition is for Kistefos to become a major European art and culture destination. With the continuous expansion of the sculpture park, bigger and better exhibitions, and the uniqueness of the place, we hope it will become a must-see.'
As originally featured in the May 2019 issue of Wallpaper* (W*242)
INFORMATION
The Twist opens on 18 September. For more information, visit the Kistefos website (opens in new tab) and the BIG website (opens in new tab)
ADDRESS
Samsmoveien 41
Jevnaker
Norway
TF Chan is a former editor of Wallpaper* (2020-23), where he was responsible for the monthly print magazine, planning, commissioning, editing and writing long-lead content across all pillars. He also played a leading role in multi-channel editorial franchises, such as Wallpaper's annual Design Awards, Guest Editor takeovers and Next Generation series. He aims to create world-class, visually-driven content while championing diversity, international representation and social impact. TF joined Wallpaper* as an intern in January 2013, and served as its commissioning editor from 2017-20, winning a 30 under 30 New Talent Award from the Professional Publishers' Association. Born and raised in Hong Kong, he holds an undergraduate degree in history from Princeton University.