Tadao Ando's Shinmonzen hotel in Kyoto is a new classic
Respectful of the past but with a unique take on the present, Kyoto's Tadao Ando-designed Shinmonzen hotel should be a hit for years to come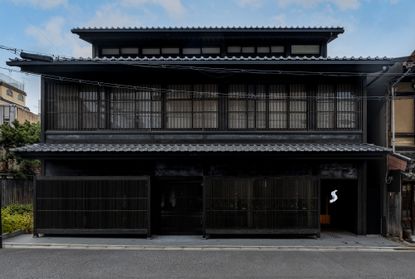 (Image credit: Ben Richards)
Its façade ticks all the boxes of a traditional Kyoto machiya townhouse, from the low-rise symmetry of its dark timber to its curved roof tiles. Step inside The Shinmonzen, however, and the atmosphere veers into the future: a long corridor, sharply lined with a sweep of raw concrete on one side, and vertical wood slats on the other, flows deep into the unexpectedly modern building.
Heritage and contemporary creativity stand in playful contrast throughout this new hotel in Kyoto's historic Gion district. Despite its external appearance, it was built from scratch, designed by none other than Japanese architecture master Tadao Ando, and dreamt up by hotelier Paddy McKillen as the far-flung little sister of Villa La Coste (W*214), the sleek temple to modern art and architecture in southern France.
Overlooking the serene Shirakawa River, The Shinmonzen blends hints of Kyoto aesthetics with its European DNA, courtesy of Ando's architecture and interiors by Rémi Tessier, alongside, as in the French outpost, an epic collection of contemporary art. 'I fell in love with Kyoto 20 years ago,' explains McKillen – or Paddy-san, as everyone calls him in Kyoto. 'It was really a love of Japan, the people, the culture, omotenashi (hospitality), and the arts, that made me want to open a hotel here. We always wanted something bijou in the middle of Gion that was in keeping with the tradition of the surrounding architecture. I was inspired by the idea of a ryokan, a traditional Japanese inn, and asked Mr Ando to design a contemporary version of this.'
For Ando, the starting point of the hotel, constructed on the site of a former parking lot, was balancing an exterior sensitive to its Kyoto surroundings with an interior evoking a sense of Europe. Gion is designated as a traditional and preserved district by the city of Kyoto, explains Ando. 'So we were obliged to create a wooden façade and Japanese roof tiles known as kawara. Therefore we tried to design the outside in a traditional Japanese style, but a completely different new modern world can be found inside.'
A solitary black split noren curtain with a calligraphic white 'S' marks the entrance, leading into the long, contemporary interior corridor, inspired by a roji, the narrow walkway found between two machiya townhouses. 'We designed it in a modern way with exposed concrete and natural light through the side grille,' explains Ando.
Inside the hotel, displays of contemporary artworks, which will regularly change, instantly steal the show – from Louise Bourgeois' Pink Days, a Damien Hirst spot painting and Yoon-Young Hur's moon jars in the ground-floor lobby, to Mary McCartney's Geisha photography, Kohei Nawa's dynamic Direction, Annie Morris' Canvas and Thread and a serene blue washi artwork by Makoto Ofune, in corridors and guest rooms.
The nine suites are spacious and contemporary, with either Western-style beds or low-rise futons on tatami, all with private balconies overlooking the river, planted with Irish moss and Provençal-style jasmine. Interior touches include sliding paper shoji screens and angular ceramic wall vases by Takayuki Watanabe, plus headboards and tables of naturally hewn sycamore by Longpré. Expanses of monolithic marble in shades of pink, green or beige line the bathrooms, alongside hinoki wood bathtubs and bento box-style amenity cases by Kyoto bamboo masters Kohchosai Kosuga.
Hints of Villa La Coste are found in subtly shared design details, such as the silver-plated door handles crafted in France, white Ploh bathrobes and Pedersoli's 500-thread-count organic cotton linen (room keys are also engraved with an image of the late Erin, McKillen's much-loved dog). 'Each of the nine guest rooms has a completely different design and a unique character,' says Ando. 'It's a good balance between West and East.'
The hotel officially opened in December 2021 after something of a false start, having opened for just one night in April 2020 (with inaugural guests including artists Hiroshi Sugimoto and Takashi Murakami) before closing due to the pandemic. It will also soon open a restaurant by chef Jean-Georges Vongerichten, designed by New York-based Stephanie Goto; a street-front patisserie; and a basement spa with a resident reiki master. As Ando says, 'This hotel has come into the world in difficult and complicated circumstances. I hope that guests can find calm here and enjoy both a traditional and modern Kyoto experience.'
INFORMATION
theshinmonzen.com (opens in new tab)
A version of this article appears in the January 2022 issue of Wallpaper* (W*273). Subscribe today! (opens in new tab)