The new Els Encants Vells by b720 Arquitectos opens in Barcelona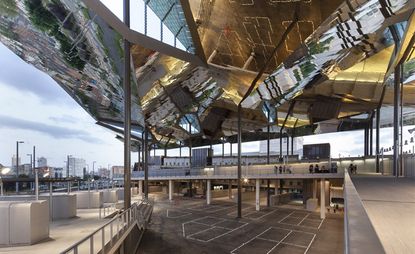 (Image credit: Rafa Vargas )
'Està molt bé' (or 'it's really very good') was the phrase most heard from the thousands who flocked to see the new Els Encants Vells (opens in new tab) - Barcelona's locally legendary flea market - on its first day of operation.
Public acceptance is the acid test for any project. For more than 80 years, Els Encants Vells has been a beloved hub of back-alley retail, a frenetic labyrinth of gypsy rag-traders and tat dealers hawking everything from underwear to old buttons. They toiled from a dusty and sun-parched plot at Glòríes, a traffic-clogged axis that has been the target of urban overhaul for some time now. Situated just opposite the city's forthcoming design museum DHUB (opens in new tab) (due to open in 2014), the revamped Els Encants Vells is a major leap forward in converting the area into a new leisure ground.
Local practice b720 Arquitectos (opens in new tab), headed by Fermín Vázquez, was faced with the formidable task of putting order into Els Encants Vells while retaining its organic, streetwise character. They did so by creating a giant 'canopy' for the sellers - an 800 sq m open-sided platform under which the cabin-like stalls are arranged in a gently sloping formation. The canopy itself consists of sculptural metallic 'leaves', supported on elegant, thin poles tilted towards the sky. Their shiny surfaces reflect not only the frenzy of market activity below but also that of the pedestrians hovering around, bringing street life into the realm of Els Encants Vells and vice versa.
ADDRESS
El Encants Vells (opens in new tab)
Plaça de les Glòries Catalanes
Barcelona
VIEW GOOGLE MAPS (opens in new tab)