A South African collector's art-crammed house in Bo-Kaap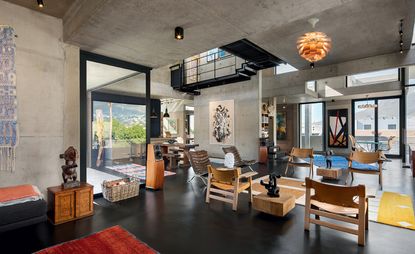 (Image credit: Adam Letch)
The sloping suburbs hugging Cape Town's historic centre are home to a mosaic of architectural styles, but rare is the building that defies common typologies. Cape Dutch, Victorian and art deco homes still predominate in tony neighbourhoods such as Oranjezicht and Tamboerskloof, while the luxe new villas in Higgovale are really updated interpretations of Palm Springs modernism. Even Bo-Kaap, where art collector Michael Fitzgerald recently built his extrovert cubist living space, is a museum to long-ago styles.

Once known as the Malay Quarter, in reference to Muslim inhabitants often descended from slaves, Bo-Kaap is best known for its spicy cuisine and brightly coloured Cape Dutch and Georgian terrace homes. 'Being a Scotsman I always wanted to live in a castle,' says Fitzgerald of the rectilinear structure he opted to build on a vacant plot on the ritzier edge of this historically working-class neighbourhood.
Fitzgerald, who was born in Trinidad and followed in his father's footsteps as an oilman before seguing into modelling, and later art dealing, drew inspiration from Tadao Ando's early domestic architecture when composing his brief. His favourite Ando building is Azuma House (1976), a windowless house in Osaka. Assiduously quarantined from its neighbours by high concrete walls, the house has an exposed courtyard connecting two living areas. 'You always risk getting cold or wet,' says Fitzgerald. 'It is absolutely fabulous.'

Cape Town's verticality is an antidote to Osaka's floodplain flatness. The views of the surrounding mountains from the upper two floors of Fitzgerald's mixed-use building also clarify the home's nickname, 'Skypad'. Local firm Team Architects, whose studio is now located on the first and second floors, supervised the design. This is their third project for Fitzgerald.

Although a new build on a vacant plot, the Bo-Kaap property had its challenges. The site is bounded on three sides by existing heritage buildings. 'One of the key things for us was to create simple proportions on the street façade,' says Team Architects' Philip Stiekema. The cuboid form with extruded elements rising over the congested Buitengracht Street may look at odds with the adjacent mix of shabby residences and industrial buildings, but its structure is rooted in the architectural lines of the neighbourhood's older homes, says the architect.
While Ando is Fitzgerald's chief reference point, Stiekema also drew inspiration from the inventive materiality and sculptural qualities of Italian architect Carlo Scarpa's work. 'We tried to avoid the highway grey of aggregate concrete by pushing the colour mix,' says Stiekema of the oxidised tone of the new building. 'The driving force of the design, though, is its spatial, structural and formal complexity, and our attempt to synthesise all these things in a design characterised by its politeness.' The last word is carefully chosen. In the past year, anti-gentrification protests have become more common in Bo-Kaap. After nearly three centuries, the neighbourhood's traditional Muslim inhabitants are slowly being squeezed out as developers move in. Both Fitzgerald and Stiekema are aware of the current sensitivities.

Fitzgerald, a well-built man of 61 with a brush cut, leads me from his open-plan kitchen, past a Sudanese wood sculpture adorned with a beaded necklace from Nigeria, onto his sun-kissed terrace that in summer is shielded from the Cape's vicious south-east winds. He points to an enormous development higher up the slope of Signal Hill. It is one of three large-scale developments, Stiekema later tells me when we speak, that have run roughshod over the community. 'The upheaval is very complex and speaks to an unheard frustration,' says Stiekema, who has been a Bo-Kaap resident since 1991. His team worked closely with Cape Town's heritage department on the new building to avoid any community issues. The only pushback Fitzgerald has received since taking occupation was a snarky comment by a local youth.

The podium design of the Skypad incorporates off-street parking on the ground floor (a mandatory planning requirement) as well as a small gallery showcasing Fitzgerald's holdings of traditional African art. 'I can say I am an expert now, but I wasn't when I started out two decades ago,' Fitzgerald says of his career trading wood sculpture from equatorial Africa. 'You'd buy things you thought were real only to find out they weren't.' Stock-in-trade African artefacts are stored in a modest storage area down a flight of stairs. 'I don't keep things piled up in cupboards. I'm not a hoarder,' says Fitzgerald, whose tastes extend from traditional African art to work by contemporary South African artists, many associated with Cape Town's Blank and Stevenson galleries. 'I don't ever deliberately buy something to sell. I will buy it if I like it, in the knowledge that one day it will move on. You get African art dealers who have thousands of pieces, but I am quite minimalist in my approach to it all.'
Fitzgerald, who also consults, began collecting contemporary art while living in London in the 1980s. His go-to gallery was Joshua and Kitty Bowler's Crucial Gallery, an experimental space on Portobello Road that championed raw work in metals and found materials. The sleeper-wood bench and table in the dining area is a reminder of this earlier phase in his collecting.

A notable feature of the voluminous living area is the grated steel walkway overhead, which connects the two en-suite bedrooms, with an additional section leading to a swimming pool. It too recalls a younger moment in Fitzgerald's journey: 'The oil rigs chased me all the way here,' he laughs. 'This is what I'm used to. They are uncomfortable to walk on, but tough.'
As originally featured in the November 2018 issue of Wallpaper* (W*236)
INFORMATION
For more information, visit the The Curator website and the Team Architects website
Sean O'Toole is writer, editor and curator based in Cape Town. He has published two books, most recently a 2021 monograph on the expressionist painter Irma Stern, as well as edited three volumes of cultural essays, including 'The Journey: New Positions on African Photography', which received a New York Times critics' pick for Best Art Books 2021. His exhibition projects include 'Photo book! Photo-book! Photobook!' at A4 Arts Foundation, Cape Town.