Rest assured: LOT's Flatiron installation encourages New Yorkers to relax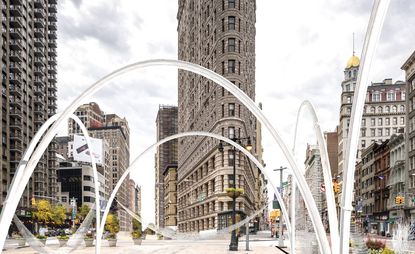 (Image credit: press)
LOT's installation 'Flatiron Sky-Line' has won the annual Flatiron Public Plaza Holiday Design Competition to be installed in New York during the holiday season. LOT's first large-scale public installation in New York City will be an arched design which welcomes in passersby to relax in hammocks, look up and enjoy some of New York's early 20th century skyscrapers including the Flatiron building, the Woolwich building and Met Life Tower.

Running for the third time, the competition hosted by The Flatiron Partnership and the Van Alen Institute invites a temporary installation to the Flatiron district to serve as a hub for a programme of public events over the winter months. A jury of design and public art professionals selected LOT's proposal from five competition entries, including New York studios Architensions; Büro Koray Duman Architects; Freeland Buck; and Young & Ayata.

Led by the principles of simplicity and an interest in the Flatiron skyline, LOT, directed by Eleni Petaloti and Leonidas Trampoukis, designed the installation to change people's viewpoint of the city. The bright arches of the structure are made from white powder-coated steel tubes illuminated with LED lights, which hold hammocks underneath their eaves. The social sculpture encourages New Yorkers to recharge and engage with the eminent architecture of the Flatiron district.

Located at the North Flatiron Public Plaza at Broadway, Fifth Avenue and 23rd Street, 'Flatiron Sky-Line' will be installed from 21 November, breaking the busy pace of the streets for the holiday season.
INFORMATION
For more information, visit the LOT website