Snøhetta's Ryerson University Student Centre is a library built for the digital age
Snøhetta's newly opened Ryerson University Student Centre in Downtown Toronto is a library built for the digital age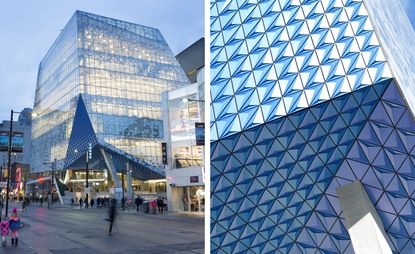 (Image credit: Snøhetta)
Located on the corner of Downtown Toronto's Yonge and Gould streets, the angular patterned glass facade of Ryerson University's new Student Learning Centre functions as a glittering gateway linking a major commercial thoroughfare and an academic campus.

Designed by international practice Snøhetta and Canadian architectural firm Zeidler Partnership Architects, the eight-level, 14,200 sq m building was inspired by the historical gathering spaces of the Stoas and Agoras in ancient Greece where learning was very much a social activity. Described by Snøhetta as a 'library without books', the forward-thinking design promotes collaboration with its open plan layouts and informal seating areas, an idea that is perfectly demonstrated by 'The Beach', a dedicated open and informal study space that spans the entire sixth floor with several small terraces linked by ramps and gentle steps.

On the ground floor, a south facing, raised platform that's part plaza, part porch, opens up to the street corner sheltered by a sloping canopy clad in iridescent, hand-folded metal panels. This stretches from the exterior facade into the lobby channeling the daylight into the large atrium space with an integrated late night study zone and café. Learning zones and digital media activities can be found on the first floor, hovering above the entrance space, while a broad stair from the lobby leads up to a bridge that connects the new centre to an existing, historical library building. On the eigth floor, a sky terrace offers students plenty of natural light and inspiring views across the city.

Decorated with asymmetrical shapes, the digitally printed glass that cloaks the building controls transmitted light, solar gain, privacy, and frames views of the city.