Tracing paper: an Albuquerque exhibition delves into the archive of Antoine Predock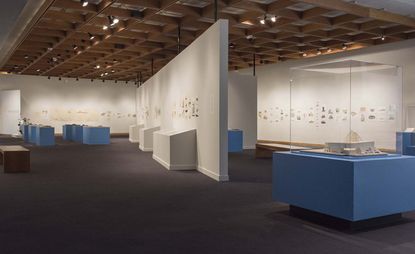 (Image credit: Antoine Predock)
A new exhibition at the Albuquerque Museum of Art and History embodies the two passions of architect Antoine Predock: drawing and travelling. The collection of sketches and models celebrates the career of the architect and international RIBA fellow, from his iconic work in the American Southwest through to his commissions in Europe, Asia and the Middle East.
The exhibition reads like a cinematic storyboard – an architectural road movie befitting of a man who still rides an impressive collection of motorcycles and has described architecture as a 'physical ride'.

The Merce Cunningham-trained Predock was famous for skiing on his buildings, which he calls 'choreographic events'. This exhibition, curated by Christopher Mead and Mira Woodson, transmits his sense of vital movement, from inspired line drawings ('the hand's tactile rush across paper', writes Mead) to seminal motorcycle journeys through the American desert and Mediterranean locales. The travel vehicle itself is fetishised, with Predock's classic 1959 Lambretta proudly on display. (In the exhibition text he writes: 'It's a continual reminder of a "Ride" that started in the 60s – and is still going today.')
The exhibition is divided into several sections, including one called 'Spain to Paris to Istanbul and back on a Lambretta (drawing all the way)'. Here, the youthful exuberance of the architect's postgraduate fellowship travels (complete with a 4 July departure on a Danish freighter) shines through with sketches of Sainte-Chapelle in Paris and 'circumstantial drawings along the way, using twigs, feathers, whatever was on the site'.
Travelogue meets time travel with Predock's evocative sketches of classic edifices. As he writes: 'Sometimes when I draw a building, especially one I've done over and over again from one vantage point, like the Pantheon, it becomes burned into my system, as if it were a signature.'
Sections on clay models, site mapping and his digital work (which he embraces while still practising the art of drawing) provide further insight into Predock's work, while one called Sensorium reveals his architecture as a feast for the senses – not just the visual, but the tactile and the experiential.
The exhibition succeeds in communicating the self-described 'portable regionalist' architect's deep reading of site and his engagement with architecture as a holistic practice, alive with movement.
The exhibition focuses on the American architect's iconic oeuvre, examining it through the lens of his numerous hand drawings and paintings. It embodies the architect's two passions: drawing and travelling. Pictured: Predock's classic 1959 Lambretta
The exhibition is divided into several sections, including one called 'Spain to Paris to Istanbul and back on a Lambretta (drawing all the way)'. Here, the youthful exuberance of the architect's postgraduate fellowship travels shines through. Pictured: Baths Of Caracalla, Rome, Italy, painted by Predock in 1985
Predock writes: 'Sometimes when I draw a building, especially one I've done over and over again from one vantage point, like the Pantheon, it becomes burned into my system, as if it were a signature.' Pictured: the set includes this piece, entitled Pantheon Slice, Rome, Italy, from 2008
The exhibition communicates the self-described 'portable regionalist' architect's deep reading of site and his engagement with architecture as a holistic practice. Pictured: Ryoan Ji, Kyoto, Japan is an artwork by Predock from 2000
INFORMATION
'Drawing Into Architecture: Sketches and Models by Antoine Predock' is on view until 2 October. For more information, visit the architect's website (opens in new tab) or the Albuquerque Museum's website (opens in new tab)
ADDRESS
Albuquerque Museum
2000 Mountain Road NW
Albuquerque, NM 87104
VIEW GOOGLE MAPS (opens in new tab)