Home sweet home: six architects rethink traditional housing typologies at RIBA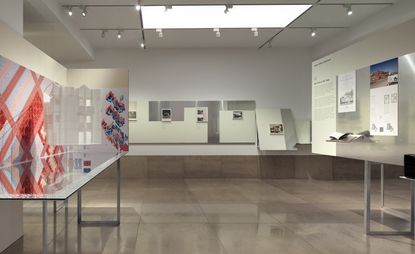 (Image credit: Philip Vile)
What is the future of Britain's housing? This is the question the RIBA sets out to answer in its newest show, 'At Home in Britain: Designing the House of Tomorrow'. Looking at the different typologies of the genre – including the cottage, terrace house and flat – six contemporary architecture practices were invited to showcase work, specifically commissioned for the exhibition. It all looks at the future of the British home, translating these historic architectural formats into speculative housing solutions.

Taking their cue from material from the RIBA collections, Mecanoo, Edouard Francois, Jamie Fobert Architects, Mae, vPPR and Studio Weave, tackle the exhibition's three residential themes. Spanning overcrowding, affordability and cooperative living, they provide insight into the future possibilities of 21st century life.

'The cottage' investigates the familiar British icon, which saw a revival during the country's arts and crafts movement. Now, say the organisers, its acts as the housing choice to satisfy the 'middle-class fantasy of country idyll' -– even though it was originally born to provide accommodation to low-wage agricultural workers.
Jamie Fobert Architects, who also worked on the overall exhibition design, reimagines the cottage vernacular inspired by the 'Fold House', a 1955 country housing model by Alison and Peter Smithson. The result is a series of bright and open homes nestled within a village. At the same time, Edouard Francois' vision of the cottage takes the form of a series of homes placed in La Cité de l'Air in Athis-Mons.

'The flat' is covered by Studio Weave and Mecanoo. The architects here consider how communal living could present new opportunities within communities and redefine social groupings. Studio Weave designed a sample of co-op marketing material, offering their own vision of how the advertising of these spaces could look like in 2025. The campaign is accompanied by Mecanoo's presentation of an idealistic cooperative dwelling, heavily influenced by Le Corbusier's Unité d'Habitation.

The final theme, 'The Terrace', examines the typical row house, which provides accommodation to one-third of the British population. The terrace house is reimagined by vPPR, who propose more shared social spaces by the revisiting of the party wall (the wall, which separates neighbouring buildings). Mae offers their own answer to the same theme via MyTerrace, a terrace house program template inspired by The Building Act of 1774, where residents can select a design based on the size of plot they own. This allows for people to envision a home that fits their individual lifestyle and budget.
INFORMATION
'At Home in Britain: Designing the House of Tomorrow' runs unil the 29 August. For more information visit the RIBA's website (opens in new tab)
ADDRESS
Royal Institute of British Architects
66 Portland Place
London
W1B 1AD