Support act: Shigeru Ban's impermanent designs leave a lasting impression in Sydney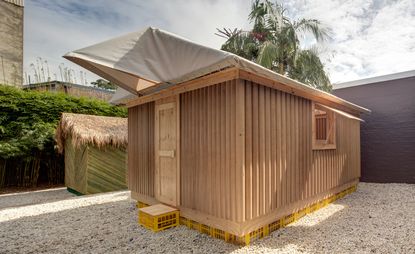 (Image credit: Brett Boardman)
Humanitarian efforts are best appreciated when experienced at ground level. The centrepiece of Pritzker Prize-winning Japanese architect Shigeru Ban's first Australian exhibition at the Sherman Contemporary Art Foundation (SCAF) best demonstrates this principle. A model of his renowned Cardboard Cathedral in Christchurch, New Zealand – originally built from paper tubes, timber, polycarbonate and stained glass to temporarily replace the 19th-century cathedral destroyed in the 2011 earthquake – soars upon the gallery floor. A large hole piercing its nave permits viewers to immerse themselves within to fully comprehend both its structural ingenuity and ethereal beauty.

Ban's ethical and constructive principles inform the exhibition, which features prototypes for various projects and outdoor structures. While it links elements of his commercial work, including a 4m-long undulating bamboo model for his Japanese Pavilion at the Hanover EXPO of 2000, it primarily focuses upon his temporary architecture in natural disaster zones over the past 20 years. A display of innovative joinery made from cardboard tubes, plastic sleeves, wood and metal bolts is animated through screened footage of their low cost assembled outcomes: schools, temporary housing and communal centres for victims around the world by his Voluntary Architects Network.
'I love to make monuments, too, but I thought perhaps we can use our experience and knowledge more for the general public, even for those who have lost their houses in natural disasters,' states Ban.

The adjoining courtyard houses two of Ban's signature disaster relief shelters. They utilise natural elements and cheap, locally sourced materials including recycled milk crates. His first, realised in Kobe in 1995, comprises walls constructed from rows of cardboard tubes, while his most recent, an evolved Paper Log House designed in response to the Ecuador earthquake of 2016, is supported by a simplified frame of cardboard tubes clad in bamboo.

Ban's exhibition marks the final project presented by SCAF after a decade-long programme. It will evolve into a centre for the exchange of ideas on contemporary culture through the implementation of talks, events and workshops. To coincide with the exhibition's launch, Ban will present a talk at the Sydney Opera House focusing on his altruistic work.
INFORMATION
'The inventive work of Shigeru Ban: SCAF Projects 34 & 35' is on view until 1 July. For more information, visit the Sherman Contemporary Art Foundation website
ADDRESS
Sherman Contemporary Art Foundation
16–20 Goodhope Street
Paddington
Sydney NSW 2021
Receive our daily digest of inspiration, escapism and design stories from around the world direct to your inbox