The Sharjah Architecture Triennial inspects the future of urbanism
The inaugural Sharjah Architectural Triennial, curated by Adrian Lahoud, is built around the subject 'Rights of Future Generations' and investigates decision making and rethinking fundamental questions about architecture in the UAE region and beyond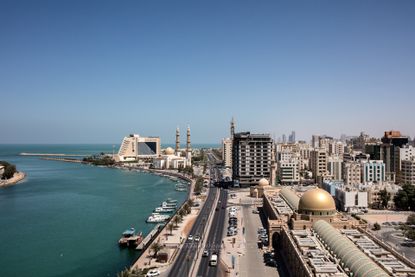 (Image credit: Ieva Saudargaitė)
The Sharjah Architecture Triennial is the first major architectural platform for the Global South and aims to stimulate a unique dialogue on architecture and urbanism for countries in the Middle East, North and East Africa and South and Southeast Asia. It was founded by the late Khalid bin Sultan Al Qasimi, who set up the Sharjah Urban Planning Council in 2014, and Adrian Lahoud, Dean of the School of Architecture at London's Royal College of Art, took the curatorial lead for its inaugural edition in the emirate, which runs until February 2020.

At the heart of the debate is how received wisdom about urban development and its relationship with the environment is being forced on future generations when different solutions need to be sought in the light of the way we now live as well as new challenges such as climate change. Taking as its subject 'Rights of Future Generations', the triennial investigates the established top-down approach to decision-making and how present decisions have long-term consequences; to rethink fundamental questions about architecture and its power to create alternative modes of existence.

Situated on both the Gulf and Indian Ocean coasts, Sharjah is at the crossroads of culture and commerce. Hoor Al Qasimi, chairperson of the triennal, says: 'When people think of architecture in the Gulf, they often picture empty high-rise buildings in the middle of the desert. Yet Sharjah has always held in its character an attachment to the various layers of its history, with a focus on the protection of material heritage.' With such conservation in mind, 15 buildings have already been identified in the past years and are being renovated. Two of them, fine examples of the 1970s and '80s architecture in the region, Al-Qasimiyah School and the old Al Jubail Fruit and Vegetable Market are taken as the Triennale's primary venues.
The interdisciplinary conversation the triennal initiated is entrusted to generate new and long-lasting discussions about the future of Sharjah. 'We invited stakeholders and policymakers to join the board, so that all the conversations generated could be shared with them. In turn, they will provide feedback and help to facilitate future projects,' Al Qasimi says.
RELATED STORY
Paris-based Lina Ghotmeh and New York-based L.E.FT, both Lebanese companies, Kuwait and Bahrain-based Civil Architecture and Bangkok-based all(zone) have been invited to examine the current state of Sharjah's housing, schooling and environment and make proposals for their future advancement. Ghotmeh's Inclusive Living suggests the reintroduction and rejuvenation of Sharjah's urban courtyard forms which had given way to isolating apartment blocks. All(zone)'s Set the Controls for the Heart of the Sun questioned the UAE's vast air-conditioned buildings that separate people from the natural environment. Its resulting design is a floating fabric roof structure that employs the principle of passive cooling to create a transitional climatic space.

Many of the show's 35 projects commissioned by the triennial involve professionals in fields outside of architecture but who deal with other diverse aspects of life that make up our communities. Depth Unknown is an archaeological project in Sebastia, Palestine by native architect Dima Srouji, sound artist Dirar Kalash, archaeologist and anthropologist Silvia Truini, and anthropologist Nadia Abu El-Haj. By using sonic technology to monitor and resist the ever-shifting terrain and how this affects the movement of the archaeological fragments found there, to document the area both as an archaeological site and a living city.

Bangladeshi architect Marina Tabassum's Inheriting Wetness examines the continuous and unstable interplay of erosion and accretion for the resident Bengalis and how adaptation to instability might be the Ganges Delta inhabitants' best strategy in a time of increased environmental uncertainty. Platforms by Italian duo Dogma looks at the use of platforms as an architectural element that is common to many civilisations, not only as a symbol of power, but also as a gathering place, and reinterprets this feature as a political construct, presented in 24 drawings, a book and a site-specific intervention built in the centre of Sharjah.
INFORMATION
sharjaharchitecture.org (opens in new tab)
Yoko Choy is the China editor at Wallpaper* magazine, where she has contributed for over a decade. Her work has also been featured in numerous Chinese and international publications. As a creative and communications consultant, Yoko has worked with renowned institutions such as Art Basel and Beijing Design Week, as well as brands such as Hermès and Assouline. With dual bases in Hong Kong and Amsterdam, Yoko is an active participant in design awards judging panels and conferences, where she shares her mission of promoting cross-cultural exchange and translating insights from both the Eastern and Western worlds into a common creative language. Yoko is currently working on several exciting projects, including a sustainable lifestyle concept and a book on Chinese contemporary design.
You might also like
Architects Directory alumni: Residence 22 by Dxb.lab

The Wallpaper* Architects Directory has turned 20. Conceived in 2000 as our index of emerging architectural talent, this annual listing of promising practices, has, over the years, spanned styles and continents; yet always championing the best and most exciting young studios and showcasing inspiring work with an emphasis on the residential realm. To mark the occasion, this summer, we are looking back at some of our over-500 alumni, to catch up about life and work since their participation and exclusively launch some of their latest completions. Dubai based Dxb.lab was first featured in Wallpaper* in the 2007 Architects Directory. Since then, the studio and its director, Khalid Al Najjar, have been going from strength to strength, completing a variety of projects of all scales and typologies; here we visit their latest housing scheme, Residence 22, in the city's Business Bay.

By Ellie Stathaki • Last updated
View More ▸