First Serpentine Pavilion outside the UK launches in Beijing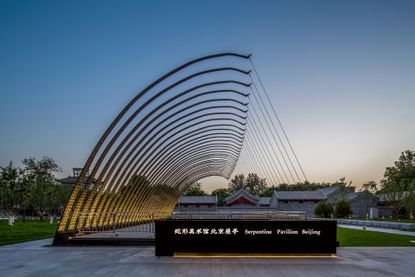 (Image credit: Serpentine Gallery)
Wallpaper* Newsletter
Receive our daily digest of inspiration, escapism and design stories from around the world direct to your inbox
Thank you for signing up to Wallpaper. You will receive a verification email shortly.
There was a problem. Please refresh the page and try again.
Built on a sacred site in the heart of China's capital that has seen 500 years of culture and commerce, the first Serpentine Pavilion co-commissioned and created outside the UK opened this week in Wangfujing, Beijing. It marks the inaugural chapter of the collaboration between the institution and the Chinese property developer Hongkong Land.
The collaboration has come about after two years of intense discussion and execution. 'This project brings a Chinese architect into the Serpentine family after 18 commissions that started with the late great Zaha Hadid,' says Serpentine CEO Yana Peel. 'This is the first time that we are working with a Chinese architect and taking on the pavilion is also a real cultural exchange and a dialogue with a new country.'
A selection committee led by Serpentine's artistic director, Hans Ulrich Obrist and Peel, which brought together six prominent figures from the West and the East, including Chinese artist Wang Jianwei and director of Made in China Philip Dodd, appointed Liu Jiakun of JIAKUN Architects for the project. His proposal, a temporary pavilion, is sympathetic both to the history and culture of Beijing and to the history of the Serpentine projects. 'We discovered Liu's work at the Venice Architecture of Biennale in 2016, which was one of the greatest highlights of the show,' says Obrist, 'Liu has always connected his architecture to tradition and yet finds a very interesting way of negotiating the local and the global, and that's what he did for us here.'
Liu's work aims to reflect the community it serves. He uses local craftsmanship to make contemporary cultural city spaces that its citizens can relate to. 'The design, which focuses on the figure of an archer, incorporates the forces of elasticity through a series of cables stretched between steel plates', explains Liu. 'What we ultimately want to present is a spatial installation that goes beyond mere function to push the boundaries of contemporary architectural practice.'
'This is not simply a franchising exercise where we just send something from A to B, which would be very disrespectful of the local context', adds Obrist. 'The 20th century was all about manifestos and today it is about listening. Liu has been very much attentive to the local context and tradition but yet found a very contemporary form and a 21st century way of creating for it. I think it's what's demanded in the world today.' Liu's creation has also helped to introduce a different tempo in the city; people are very often rushed but this encourages them to slow down and spend time experiencing the architecture, which is one of the core values of the Serpentine.
'We believe in the idea of "Architecture for All". It's a wonderful opportunity for us to build a bridge from the historic to the modern world and to create this very open platform, both of hardware and of software in terms of programming, for the next five months', concludes Peel. The pavilion will be the focal point for a range of cultural activities, events and social encounters from now until the end of October.
INFORMATION
For more information visit the Serpentine Gallery's website
Receive our daily digest of inspiration, escapism and design stories from around the world direct to your inbox
Yoko Choy is the China editor at Wallpaper* magazine, where she has contributed for over a decade. Her work has also been featured in numerous Chinese and international publications. As a creative and communications consultant, Yoko has worked with renowned institutions such as Art Basel and Beijing Design Week, as well as brands such as Hermès and Assouline. With dual bases in Hong Kong and Amsterdam, Yoko is an active participant in design awards judging panels and conferences, where she shares her mission of promoting cross-cultural exchange and translating insights from both the Eastern and Western worlds into a common creative language. Yoko is currently working on several exciting projects, including a sustainable lifestyle concept and a book on Chinese contemporary design.