SelgasCano creates an urban jungle inside Second Home's new Lisbon outpost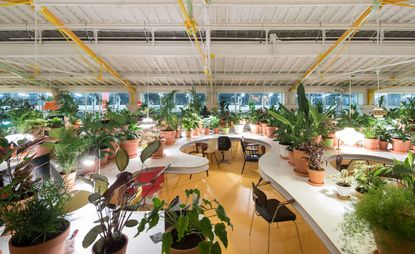 (Image credit: SelgasCano)
Wallpaper's Best City for 2017, Lisbon is a gift that keeps on giving. Celebrations for Amanda Levete's MAAT museum have barely cooled off, yet the city has already launched another cultural destination to send tongues wagging: Second Home.

The co-working concept already existed in East London before this new incarnation was opened in a refurbished market hall. But like our W* Design Award judges, founders Sam Aldenton and Rohan Silva obviously saw huge potential in the coastal capital's disused spaces. 'I was standing right behind this building one late night with a drink in my hand on the street and thought, "You can't do this in London anymore,"' says Silva from the brightly hued space on the first floor of Mercado da Ribeira.
The space is imbued with SelgasCano's colourful aesthetic
They brought in long-time collaborators SelgasCano to modernise the interior while maintaining the building's original 19th-century architectural features. Architects José Selgas and Lucía Cano, responsible for Second Home's workspace in London Spitalfieds and its bookshop Libreria, which opened in London last year, commuted from their Madrid studio, only a hop, skip and six-hour drive away.
In Lisbon, SelgasCano pay homage to the Portuguese countryside, infusing its colourful style into an urban jungle of more than a thousand plants. 'The plants are architectural dividers,' Aldenton explains. 'The plants are the walls, sound barriers and for the creative psychological environment. They clean the air and take away dust.'
Over 1,000 plants divide the workspace
The walls and ceiling of the foyer are coated in a good dose of Yves Klein blue, while inside the workspaces midcentury chairs are mismatched. The designers brought in locally sourced vintage lighting and created bespoke jigsaw tables on casters to enhance the homely feel of the place. 'The character comes from the large, open space and in the nice column-shaped iron windows,' says Cano 'We tried to preserve them all.' The space can also boast being one of the greenest in Europe, with low-energy LED lighting and advanced radiant heating and cooling systems.
When asked why the pair chose to launch in Lisbon, Aldenton told Wallpaper*, 'We saw opportunity to support a creative ecosystem because the cost of living is still lower here.' He and Silva designed a cultural program that includes yoga and live music.
Still to come for Second Home are two more London spaces: one in Holland Park, plus a child-friendly space in London Fields. Aldenton and Silva hope to conquer LA in the future.
INFORMATION
For more information, visit the Second Home website (opens in new tab) and the SelgasCano website (opens in new tab)