We pay a visit to Rafael de Cárdenas' redesign for Asia de Cuba in New York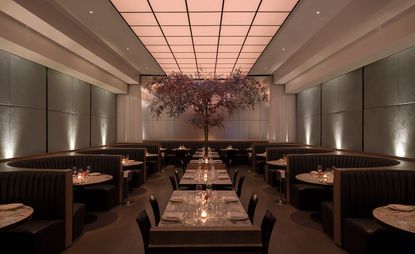 (Image credit: Rafael de Cárdenas)
After closing the doors of its iconic New York flagship on Madison Avenue in 2011, fusion restaurant Asia de Cuba's long awaited reincarnation reopened in the East Village in 2015 and we couldn't wait to go and explore the brand new space designed by architect Rafael de Cárdenas of Architecture At Large. We loved it so, that the modern and atmospheric space became our adopted home for the Tinker Tailor Soldier Spy fashion story in our March 2016 issue.

The Asian-Cuban restaurant's kitchen is led by Cuban born and raised Executive Chef Luis Pous, whose passion and extensive knowledge of the Cuban cuisine takes centre stage, offering up an impressive spread of classic Cuban food mixed with Asian flavours. The reimagined menu consists of six main sections: ceviches, small plates, salads, wok, plancha and platos grandes served alongside a selection of Pous's sumptuous signature plates.

Complementing the cuisine, de Cárdenas conceived an enticing interior that acts as homage to Havana's hazy and seductive nightlife, aiming to include hints of the fun and tropical into the formal, yet contemporary space. Walls are adorned with a walnut panelling and a monolithic ceiling light suspends the dining area in a perpetual state of twilight, highlighting considered details, such as the tonal grey oak stained floors, sheer curtains and glistening accents of brass throughout.

We caught up with de Cárdenas to talk about this project, and his future endeavours...
Wallpaper*: What inspired you for the new Asia de Cuba interiors? What references did you use?
Rafael de Cárdenas: [The film] Less Than Zero, when Blair, Julian and Clay are having dinner in a blue-lit restaurant in a booth. And the idea of trees from the four seasons, as well as the old Russian Tea Room before it was renovated in the late 90s.

What was the commission's most challenging element?
Working on a reinterpretation of one of my heroes' (Philippe Starck) classic projects.

Is your design process different when designing restaurants and bars, than, say with residential or retail interiors?
The process, or a lack of a definitive one, is typical to the way I start a project. I build on a fantasy.

Your designs have a sense of playfulness and performance. Would you agree? How important is playfulness in your architecture?
Well, playful in the sense that I hope people feel a sense of departure from their everyday…which is exciting for a restaurant - [to be] a fantasy, not a simulation of your home.

What else are you working on at the moment? What should we look forward to from Architecture At Large?
We are working on a retail project in NY that opens today! [It is called] Gentle Monster. Also, a ground-up house in the English countryside, which should be completed later this summer, an exciting hi-tech boat being built in Tuscany, and a small boutique 26-unit residential project in Miami that is quite different from the rest of what is happening in Miami.

The full fashion photoshoot at Asia de Cuba is featured in the March 2016 issue of Wallpaper*
INFORMATION
For more information visit the Asia de Cuba website