Origami art: Pitsou Kedem adds folded iron feature wall in Tel Aviv loft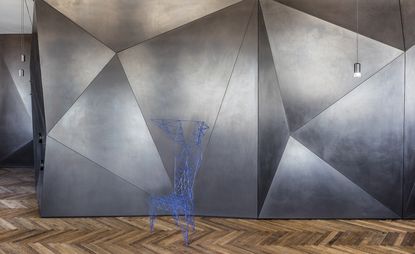 (Image credit: TBC)
Israeli architecture firm Pitsou Kedem has taken their love of geometry to new heights in a private Tel Aviv penthouse featuring an innovative, multipurpose 'origami' wall.

The sculpted, three-dimensional wall, made of folded iron, runs the length of the apartment, isolating the sitting area and kitchen. 'The idea was to create a wall to serve as a design element that incorporates all the different spaces of the apartment to one language,' says director Pitsou Kedem, who led the project with architect Nurit Ben Yosef.

The polished angular wall dominates the space, but also serves as something Kedem calls a 'smart' wall – appearing as a lengthy relief sculpture while simultaneously hiding the apartment's services. Compartments open electronically to reveal the television, and hidden within the wall's various shapes are storage cupboards, a wine cabinet and doors leading to the toilets and bedroom.

The rhythm of the design is carried through to the chevron parquet flooring, which Kedem says acts as a softening element, counterbalancing the abundance of iron and natural stone materials used throughout the living area and kitchen. Meanwhile, a web of hanging, exposed bulbs allows light to play off the wall's matte finish, and illuminates the kitchen's clean and minimal Boffi fixtures. The lighting was designed by Orly Avron Alkabes.

Though the bathrooms and bedroom are tucked away out of sight, the same focus on form is carried into the apartment's private areas. Material elements, such as the natural stone of the kitchen counters, are found in the bathroom's walls, and even the tub and bedside tables are studies in sharp, elegant angles.

The origami ironwork also makes an appearance on the balcony just off the kitchen, where seating and a bar area take on the same angular folds. With the option to cover up the trappings of modern life, the new penthouse is a supremely unique backdrop from which residents and guests can take in the expansive views of Tel Aviv's burgeoning skyline.
INFORMATION
For more information, visit Pitsou Kedem's website
Photography: Amit Geron