Piero Lissoni creates a modernist Tel Aviv home with a Milanese twist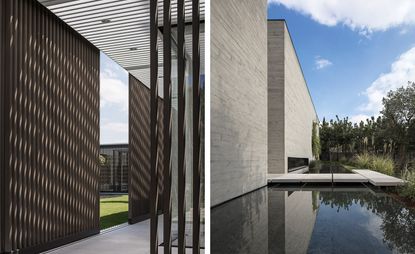 (Image credit: Amir Geron)
Is there a place for modernism in our postmodern, post-everything age? Piero Lissoni thinks so. The Italian architect of purified forms, from sharp little coffee makers to lofty, linear edifices, has made a career of creating rigorously clean compositions with a foundation in the stark and immaculate works of the 20th century.

'In 2018, it's still possible to create architecture that is contemporary and simple, at least aesthetically simple, and to reclaim a little bit of that elegant modernist spirit,' he announces, seated at a drawing table in his bright white Milan studio, surrounded by his three napping golden retrievers, as his dark-clad team works away at largescreen computers behind him. Lissoni, dressed Milanese-style, in a neat navy blazer with matching silk pocket square, speaks softly, but his black apostrophe eyebrows and hazel eyes dance when he puts forth an opinion.

The architect's latest completed work, a residence in Tel Aviv designed in collaboration with the Israeli firm Tehila Shelef, is the very definition of crisply angled contemporary modernism. The entrance appears like a monolithic barricade, but on the inside, the two-storey home reveals itself as a dialogue between the external and the internal, with crystal-clear walls of glass that barely separate the airy, open space of the interiors from the lush greenery and limpid pools surrounding the house.
'My task was simply to make this house completely transparent in order to capture the light – to allow the residents to live inside but to feel like their existence is outside,' says Lissoni. Screens of wood over the glass walls soften the heat of the Tel Aviv sun – both layers slide back, completely opening the house to the outdoors when desired. When the wooden grille is closed, the effect creates what Lissoni calls a fundamental 'paso doble' between the light and shadows cast inside.

The house was carefully laid out to embrace the local light and to mesh with the surrounding area, but despite its vernacular orientation, the project has a distinctly Milanese discretion. Before reaching the residence's sunshine-filled interior, visitors face an entrance of looming blocks of stone, obscuring the treasures that lie within. 'In Milan, our cultural DNA tells us, no matter how rich one might be, not to show off, so even the homes of the most important Milanese families are closed and imposing on the outside, but inside you find courtyards, gardens, frescos, colonnades – you find all the beauty,' he says.

According to Lissoni, the house also expresses his Italian 'humanistic' approach, which he applies to every element of a project – from its initial visual impact to its interior, its garden and exterior, right down to the technical considerations needed to complete it. 'The Anglo Saxon way is for an architect to design a house, but to leave the construction and functional aspects to an engineer and ask an interior decorator to make it feel like a home. If you're an architect, you should know how to design absolutely every aspect,' he says. 'When you create a building, you need to design everything: the façade, but also the internal structure, the mechanical aspects. You need to design the veins and the nerves.'
Applying this sweeping approach to the Tel Aviv residence, Lissoni formulated the L-shaped, bi-level footprint of the house, the garden, the numerous pools, the advanced climate-control system – even the interiors and furnishings. He mixed a 'cocktail', as he says, of his own furniture designs and others he admires, along with antiques from China, Japan and Israel, and the owner's personal art collection. The materials are 'as neutral as possible', he explains, and match a floor of local grey marble with whitewashed plastered walls and a dramatic black steel staircase, creating a museum-like coolness that underlines the calm efficiency of the home – a retreat from the heat and vigorous urban energy of Tel Aviv.

The greenery, designed together with local landscape architect Mohr Avidan, appears to grow from the structure itself in a vaguely formalised way. Vines sprout from crevices, buds poke through outdoor steps and long desert grasses cluster along the edges to soften the hard lines of the structure. Lissoni describes it as an 'Italian garden' (despite the Israeli plant varieties), because it is 'artificially natural' – planned, but seemingly unplanned and perfect in the Italian style.

The building's visual purity belies the complexity of its design. Lissoni kept the pillars and supports in the lofty interiors to a bare minimum – despite the entire walls of sliding glass – and the house's inner workings, those 'veins and nerves', are fantastically intricate, full of cutting-edge mechanisms in the floors, roofs and walls that remove heat from the air. Surrounded by a series of pools, the house seems to float on water, softening the effect of the hulking concrete blocks. Yet even the water is functional, with an elaborate evaporation system that cools the air and reduces energy use – a must in such a sun-warmed part of the world. 'The architect's duty is always to design a building but also to consider what a human being needs from the building,' says Lissoni. 'We make spaces for human beings, after all.

As originally featured in the April 2018 issue of Wallpaper* (W*229)
INFORMATION
For more information, visit the Lissoni Associati website (opens in new tab)