Paolo Portoghesi's postmodernist architecture: curves, Baroque and irony
A love affair with the Baroque, a playful sense of irony, a captivation with curves and a passion for patterns define the life and work of postmodernist Italian architect Paolo Portoghesi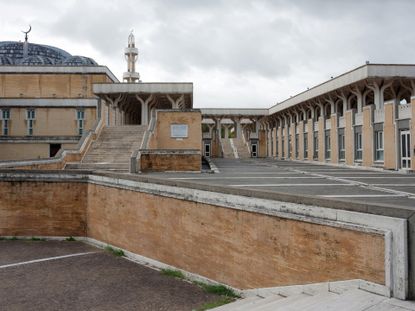 (Image credit: Leonardo Magrelli)
'Do you know that I've always been rather fascinated by wallpaper?' says Paolo Portoghesi gently, almost as if trying to break the ice. The 89-year-old architect, historian, poet, designer and mercurial icon of modern Italian culture shares a house with wife Giovanna in Calcata, a medieval hilltop town near Rome that has, in recent years, been repopulated by artists. The interiors feature a lot of wallpaper, mostly in patterns by William Morris, covering what empty wall space there is in the various libraries, studies, nooks and awkward anterooms. Everywhere are objects, miniscule and large, sought-after and found by chance, geological and zoological, in equal measure. The almost ludicrously decorative home-cum-museum of a polymath architect and historian might feel oppressive, or at least too strictly preserved in aspic, but this house is far from stuffy. Here, where every inch creates a patterned juxtaposition of past and present, where Portoghesi passes nimbly through the warrens and menageries, everything, including the walls and those Morris prints, seem to be very much alive.

Despite an architectural legacy that spans at least six decades – ranging from the radical, concrete curves of Casa Baldi (1959-61) on the outskirts of Rome to the elaborately sinuous interior of the Mosque of Rome (completed in 1994) – Portoghesi remains a contentious figure in modern Italian architecture. The country's merciless theorists, often contemporaries, peers and collaborators of Portoghesi, were not always kind. In his History of Italian Architecture 1944-1985, Manfredo Tafuri asserted that Portoghesi's work showed 'a taste for excess but lacked any excitement'.
It is perhaps Portoghesi's obsessive exploration of Italian, and specifically Roman, Baroque architecture that led to his isolation and categorisation as an adherent of historicism, a doctrine that was the very antithesis of 20th century architecture. Portoghesi was born and raised in central Rome, and the city's monuments and their makers clearly cast a long shadow. He speaks of the precise moment when, as a young boy, he was struck by the cupola of Francesco Borromini's 1642 church of Sant'Ivo alla Sapienza, which was near his school. 'It was problematic for me, but I was enchanted,' he says. Borromini's manipulation of geometry and perspective was full of paradoxes, such as the harmony between sharp points and soft curves: 'I saw that poetry is expressed through architecture.'

The main reception room of the house at Calcata is dominated by a metal and glass screen, fixed on a wall, which provides an alluring backdrop. It is inspired by the false apse of the church of Santa Maria at San Satiro in Milan, which was completed in 1482 and features an early example of trompe l'œil, attributed to High Renaissance architect Donato Bramante. As Portoghesi opens a secret mirrored door within the screen, he marvels at Bramante's trick of making only nine metres of depth appear to be more like 80.

A playful sense of irony defines Portoghesi's work and best explains his role as a pioneer of Italy's postmodernist movement. In 1980, he spearheaded the creation of the first Venice Architecture Biennale, entitled La Presenza del Passato (The Presence of the Past). The fair was centred around the 'Strada Novissima' exhibition, for which he wrangled submissions from some of the world's most prominent architects, among them Frank Gehry, Rem Koolhaas, Arata Isozaki, Robert Venturi and Denise Scott Brown, and Ricardo Bofill. Portoghesi created a street lined with the contributions of each participant architect, and the exhibition is considered by many as a rallying point for the postmodernist movement and certainly one of its most intellectually rigorous manifestations.
'Sometimes you need a bit of noise and colour in architecture,' says Portoghesi. During the 1980s, when postmodernism seized the architectural upper hand, he edited the ravishingly eclectic, large-format architectural quarterly magazine Eupalino. Looking inside any of the magazine's 12 issues is a trip into the mind of the editor and a taste of the spirit of those times. 'It was an era of optimism,' he says. 'Edonismo Reaganiano [Reagan-era hedonism].' He felt relieved that the privations of modernism were gone. Le Corbusier, according to Portoghesi, managed to create astonishing works of art, but the modernism he spawned lacked expression and ultimately ruined the modern city. Indeed, 'Strada Novissima' offered a counter to Le Corbusier, who hated the closed-in 'rue corridor' and advocated endless, open streets stretching into the horizon. Portoghesi champions the opposite, saying, 'It's the very closing of the street that makes it beautiful. It's how you create a gathering space.'

Adjacent to the complex of dwellings that forms Portoghesi's house is an expansive garden containing various follies, fountains, temples and a library, as well as an impeccably-kept zoo. As tropical birds flap and squawk in their elaborate enclosures, he bends down to mimic the quacking of one of the geese that are allowed to roam free. Reflecting on a movement that he acknowledges is once again in fashion, Portoghesi remains enthusiastic: 'Postmodernism represented liberty,' he says. 'It was freedom to explore the past or the future. Of course, liberty is dangerous, it can make you do irrational, absurd things. But we all need a spectacle.'