True maverick: a Yale show explores the experimental work of Oskar Hansen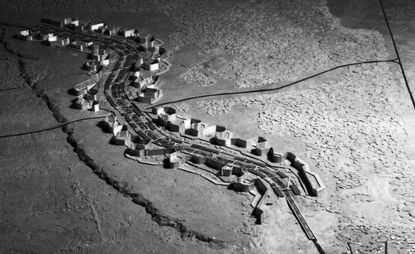 (Image credit: Igor Hansen)
Polish architect Oskar Hansen, a key member of Team 10, one of the first groups critical of modernism's strict orthodoxy, was the definition of a maverick. He espoused engaging and enabling building users, rather than preaching to and dictating their behaviour, and he praised openness and radical flexibility instead of dogma and strict systems. He paid for it in many ways, subjecting himself to ridicule and severely limiting his commissions, but in the process he laid the foundations for a new way of thinking about the built world. 'Open Form', at the Yale School of Architecture's Paul Rudolph Hall, charts much of his work and career, and lays out the case for thinking (very) differently.

In an homage to Hansen's Open Form theory, which, among other things, flipped the established hierarchy between artist and viewer, the show (which has also shown in Barcelona and Porto) is loosely organised, and can be approached in a variety of ways, both physically and intellectually. Inspired by Hansen's 1957 solo show in the salon of the Warsaw newspaper Po Prostu, the Yale exhibition employs horizontal and vertical platforms as well as a scaffold-like steel and wood 'choke chain' structure hovering above to loosely group the content into the varied phases of Hansen's career. Theme-based sections, filled with models, drawings, installations and ephemera, range from 'Architect as a Curator', about Hansen's malleable exhibition and installation work, to 'Art and Didactics', about his efforts to rethink teaching, learning, and even school bureaucracy as a professor at the Warsaw Academy of Fine Arts.

Highlights of the show (and there are many), include the drawings, sketches, and maps for Hansen's unrealised 'Linear Continuous System', a proposal to establish linear, decentralised cities running throughout Poland and the rest of Europe. Their outlines would trace rivers and other geological boundaries, and their forms would allow all residents to have equal access to sunlight and green space. On a far smaller scale are Hansen's many temporary pavilions, such as 'My Place My Music' (designed with his wife Zofia) for the Warsaw Contemporary Music Festival, a tensile steel structure embedded with speakers that would allow users to compose their own works (and break the rigid divisions between orchestra and audience) by walking from one musical piece to another. Many other works similarly removed long-established norms, from where people should sit at a play to whether walls could be removed from a house to accommodate changes.

For Hansen, points out show curator Aleksandra Kedziorek, the architect's role was to create a 'perceptive background', or a frame to expose what users are capable of. It's an ego-less approach that remains as refreshing and useful today as it did when Hansen was upending norms of teaching, building and living. 'It's the idea that the creative process can be an ongoing communication, not a lecture,' sums up Kedziorek. This could sometimes lead to chaos, but it also opened up untold creativity and a much-needed sense of collectivity that, ironically, could be argued to be as lacking in Communist Poland as it is in our world.
INFORMATION
'Oskar Hansen: Open Form' will be on view until 17 December. For more information, visit the Yale School of Architecture website (opens in new tab)
ADDRESS
Yale School of Architecture
Rudolph Hall
180 York Street
New Haven, CT 06511