How Zaha Hadid Architects' Napoli Afragola station is shaping the future of Italy's train infrastructure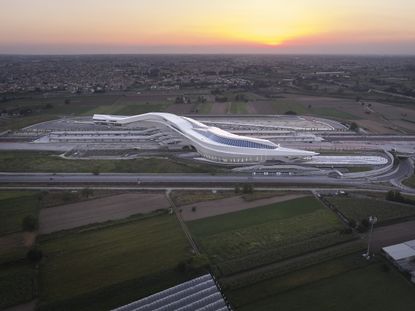 (Image credit: Photography: Hufton+Crow)
The Napoli Afragola railway station, the Zaha Hadid Architects-designed transportation gateway to the south of Italy located 12km north of Naples, has been photographed on its first birthday. The station opened in June 2017 and was originally commissioned as a response to the increase in demand for train travel in Italy – that has increased by 50 per cent over the last decade.

The sweeping design was structured by the main concourse that forms an urbanised public bridge, connecting communities either side of the eight railway tracks. The architecture was defined by ZHA through examining the proposed circulation routes of the passengers and how they would traverse this walkway to reach the platforms. Yet this bridge became an elevated building that houses all the station's facilities for departing, arriving and connecting passengers – bringing people in from the large entrances at each end of the station, and flowing them through the multi-levelled bridge layered with public zones, shops and amenities.
A reinforced concrete base supports the elevated concourse of steel ribs clad in Corian® and topped off with a glazed roof. The curved structural concrete elements were built using technologies initially developed for the construction of the ZHA-designed MAXXI Museum in Rome. The wooden formwork was replaced by prefabricated steel units, and the double curves that define the sweeping form of the station's roof were realised with CNC milled polystyrene formwork.
The station is an important part of the Italian train infrastructure – it serves four high speed inter-city lines, three inter-regional lines as well as a local commuter line. It is pivotal to the 15 million residents of Campania, Puglia, Molise, Calabria and Sicily in southern Italy, and is also a national connection to the north of Italy and the rest of Europe.
The future holds more for the rail station. High speed rail services will eventually connect with Bari and Reggio Calabria with the north of Italy and Europe. By 2022 the new rail infrastructure will serve the entire Campania region, integrating with the Napoli Cancello line and the Circumvesuviana commuter railway extension further to the south. Watch this space.
INFORMATION
For more information, visit the Zaha Hadid Architects website (opens in new tab)