The Zagato Twins revive a classic niche Aston Martin design
Just 19 examples of the Aston Martin Vantage V12 Zagato Heritage Twins by R-Reforged continuation will be made, and you'll only be able to buy them as a pair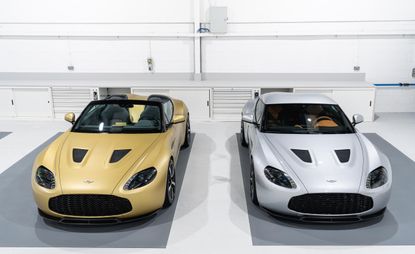 (Image credit: Aston Martin)
The contemporary car collector is spoilt for choice, with a plethora of special editions and limited series being produced by every high-end sports car and luxury manufacturer. On top of that, there are the limitless opportunities afforded by each company's coachbuilding division, ensuring that a combination of imagination, patience and deep, deep pockets will result in something unique.

If you're not so sure of your role as a tastemaker and fancy a return to a more celebrated golden age, you're also in luck. For the past decade or so, the Continuation Car has become a major focus for the biggest automotive brands. The mix of highly skilled specialists, revived traditional methods and discrete updates for use on road and track make these iconic revivals attractive to drive as well as invest in. In many cases, the originals have ascended to such lofty values that day to day use is – for purposes of insurance – all but impossible.
While you can step into a nut-and-bolt recreation of sports cars from the 20s through to the 60s, revivals needn't necessarily mean vintage cars. We spoke to Dr Andrea Zagato, CEO of the famous coachbuilding company started by his grandfather Ugo in 1919, about the forthcoming Aston Martin Vantage V12 Zagato Heritage Twins by R-Reforged. Revisiting an acclaimed design from the turn of the last decade, the project continues a longstanding relationship that dates back to the early 60s.

'We had this opportunity from Aston Martin,' says Dr Zagato. 'We knew the original project was very successful – the cars' value had increased, which is rare over such a short time.' This time, a partnership with the Swiss specialists R-Reforged gave Zagato a chance to enhance and upgrade the original model. 'The V12 was a true Gran Turismo model,' Zagato enthuses, 'it represents the real ethos of Zagato.' Back in 2011, the car was shown at the Villa d'Este Concours d'Elegance in Italy before being shipped off to Germany for an attempt at the Nurburging N24, one of the world's most famous endurance races. 'This is the true definition of a Gran Turismo, a machine that can be exhibited as a show car and also run on the racetrack,' he says, 'Enzo Ferrari once said that 'the car that wins the race is the most beautiful.'
More than any other Italian coachbuilder, Zagato has become associated with this fusion of performance and aesthetics. As well as working with all the major Italian manufacturers, Dr Zagato points out that the company has a long history of working with British companies, citing designs created with AC, Bentley, Bristol, Frazer-Nash, Rover, Rolls-Royce and MG, in addition to the ongoing work with Aston Martin. In all, the company has a portfolio of 440 car designs, working with 44 different companies. Just 19 examples of the Aston Martin Vantage V12 Zagato Heritage Twins by R-Reforged continuation will be made, and you'll only be able to buy them as a pair of open and closed cars. The most notable addition to the original is the incorporation of a dynamic rear-spoiler. 'Back in 2012 we didn't have time to develop a movable rear wing, so they were all built with a fixed wing,' Zagato says, 'now we can use the air blade from the Aston Martin Vanquish family.' The design is also slightly fettled and upgraded and there's a welcome power boost of 80hp over the original.

Zagato credits the renaissance of so-called 'Continuation' cars that have become hugely popular in the high-end market to a search for familiarity in an age of uncertainty. 'We have what we call a neo-classical approach to car design, evoking the cars of the 50s and 60s,' he muses, 'we have a long relationship with so many companies.' It helps that the collectors seeking out these contemporary updates of classic design are bolstered by economics; limited edition cars tend to appreciate in value, even in the short term. And if you're still hell-bent on driving your new investment, your insurer will happily note that a Continuation model is usually an order of magnitude less expensive than the original.

Zagato has another trump card in its hand; it is the progenitor of some of the most striking original car designs ever made. As well as its bespoke suite of Aston Martins, made in close collaboration with the manufacturer since the 1960s, there are numerous other classics in its archives. That allows Zagato to build Sanction Lost models of little-known or one-off designs, such as the elegant Porsche 356 Carrera Zagato Coupe created to honour a one-off design from 1959, a car that was subsequently crashed and destroyed. 'We have the pictures and plans, so you can create a car today that celebrates the past.' Another Porsche project is in the works.
Zagato's facility just north of Milan turns out just one hand-built car a month, with other models being produced under license by regional specialists. No-one builds cars without customers, and Zagato is safe in the knowledge that is has a loyal fanbase of well-heeled collectors. 'Our relationship with our customers is like the owner of a small restaurant. We know every client and we have a good number of collectors who like our philosophy. Just like the restaurant customers who have a favourite restaurant – they trust in the chef to prepare and recommend their food.'
INFORMATION
Aston Martin Vantage V12 Zagato Heritage Twins by R-Reforged. £1.75m GBP + local taxes for the pair
Jonathan Bell has written for Wallpaper* magazine since 1999, covering everything from architecture and transport design to books, tech and graphic design. He is now the magazine's Transport and Technology Editor. Jonathan has written and edited 15 books, including Concept Car Design, 21st Century House, and The New Modern House. He is also the host of Wallpaper's first podcast.