'Modern Views' exhibition and book, New York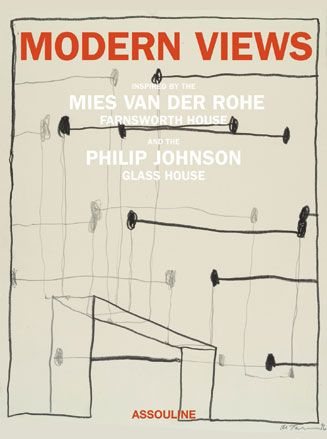 (Image credit: Debbie Taylor)
The genius of both Philip Johnson's Glass House (opens in new tab) and Mies van der Rohe's Farnsworth House (opens in new tab) has long excited and intrigued the design cognoscenti; disciples of the loosely contemporaneous Modernist glass structures (the Glass House was completed in Connecticut in 1949, while Farnsworth took shape between 1945-51 in Illinois) have revelled in the unspoken dialogue and complex comparisons between both for decades. Now 'Modern Views' - an exhibition with an accompanying book to be auctioned at Sotheby's (opens in new tab) New York on October 6th - provides a forum for the continued conversation and elevates the status of both buildings - if possible - even higher: the iconic houses have assumed the role of muse for a roll-call of some of the world's most legendary contemporary artists and architects.
One hundred celebrated names in architecture, art, design and landscape architecture have been invited - under the curatorship of the Pulitzer-prize winning Paul Goldberger (opens in new tab) - to create and donate a work of art accompanied by a short statement that captures the essence of either or both of these much-analysed (and much-photographed) houses.
Goldberger says of the two icons: 'When you have seen them both, you cannot ever think of them as anything but distant architectural cousins, each determined to stand for a set of ideas that are its own, however much there may still be a faint family resemblance. The Glass House, which was finished first in 1949, was designed after Farnsworth House, and Philip Johnson's debt to Mies ven der Rohe is incalculable. But Johnson broke away from Mies even as he pays tribute to him.'


Both houses are now under the care of the National Trust for Historic Preservation (opens in new tab), and proceeds from the auction - which hopes to raise $1M - will be directed straight back into the safeguarding of these Modernist masterpieces; 'Modern Views' is part of a year-long initiative to raise funds earmarked for the restoration of the Brick House at the Philip Johnson Glass House and for the restoration and maintenance of the Farnsworth House. Among the contributors are Daniel Libeskind, Richard Rogers, Rafael Vinoly, Richard Meier, Tashiko Mori, Robert Morris, Inigo Manglano-Ovalle, David Adjaye, Tadao Ando, Zaha Hadid and Maarten Baas.


One compelling accompanying statement comes from architect Ronald A. Krueck, who recalls his visit to the self-commissioned Johnson house: '"No one knows what it's like living in a glass house," Edith Farnsworth yelled at me. I was a student walking down the Fox River, and her dog barked, giving away my presence. Her anger startled me and I thought, "Why did she build one?" She lived not only in a glass house but a glass house that would become an icon of twentieth-century architecture.' Still, Krueck was not put off. He concludes: 'Yet the strength of this great piece of architecture survives. It will continue to be visited as a temple, just like the Greek temples of the Acropolis, which were never meant to function other than as homes for the gods.'
On 6th October at Sotheby's, visual artist and filmmaker Sarah Morris will premiere her film 'Points on a Line', which was inspired by both houses. But for those unable to make the auction, the accompanying book, 'Modern Views' delineates the slate of contributors' reflections on these groundbreaking buildings, and as if to underline the homage paid to the houses' brilliance, for the first time, the tome reveals construction drawings and sketches of both. And even, it seems, Mies van der Rohe was surprised by his Modernist triumph. 'You never know how colorful nature is until you're in a glass house,' he said.