Reimagined Victorian townhouse supports social life at University of Pennsylvania
Deborah Berke Partners has repurposed a Victorian townhouse into the accessible new Meeting and Guest House for the University of Pennsylvania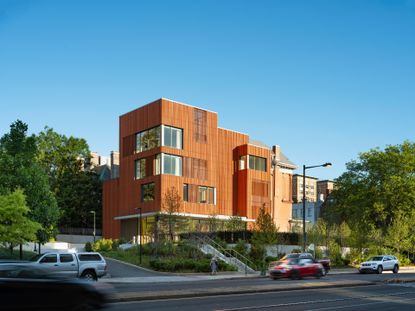 (Image credit: Chris Cooper)
The University of Pennsylvania has opened the Meeting and Guest House in downtown Philadelphia. Adjacent to the President's House and lively 38th Street, as well as key campus sites Perry World House and the Kelly Writers House, the brand new, Deborah Berke Partners-designed building is intended to support social life at the university and features a range of event and gathering spaces within a reimagined late Victorian townhouse.
Originally built in the late 19th century by W Frisbey Smith, who was then a young graduate of Penn's architecture programme, the structure has been redesigned and added to by the New York architecture studio led by Deborah Berke. It 'transforms the Victorian townhouse into a 21st-century destination', and offers residential suites for honoured guests and visiting dignitaries.
Victorian townhouse turns Meeting and Guest House
Using a three-part logic that follows the massing of the original Victorian townhouse building, a new vertically grooved terracotta façade is inserted at the rear and east side, reinterpreting the brick of the original building. The eastern part of the building also includes a former parking space now designed as an event space.
In addition, techniques such as 'transparent and veiled glazing' are utilised to carefully call attention to daily transitions of light, allowing the building to 'glow like a beacon'.
The lobby is supported by window walls that open out to the terrace, whilst the mezzanine unites the staircase and elevator with a conference room that leads to a meeting and event space. The second floor hosts offices, multipurpose meeting rooms and a board room, and the remaining two floors host four suites and offices, catering to university guests.
The Meeting and Guest House is preserved through repointed brickwork, the installation of a new roof and the reglazing of original windows, with the rest of the restoration process focusing on ornamentation.
The main entrance, newly repositioned to the south side of the building, is a 'fully accessible addition off a shared motor court' and is adjacent to Locust Walk, a busy pedestrian thoroughfare that is the 'life and blood' of the campus.
Employing clever, sustainable architecture, the Meeting and Guest House building has earned a gold certification from the Leadership in Energy and Environmental Design programme. This demonstrates and aligns with architects Deborah Berke Partners' design ethos of honing 'complex considerations – environmental, social, and aesthetic – into meaningful architecture'.
The Meeting and Guest House building is now open to the public, from Monday to Friday.
INFORMATION
dberke.com