Mies van der Rohe's McCormick House is brought back to life at the Elmhurst Art Museum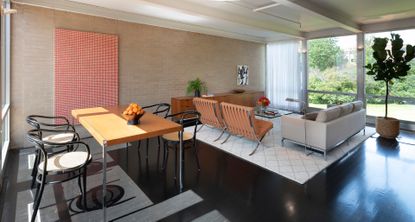 (Image credit: James Prinz)
For many years, McCormick House was a jewel hidden in plain sight, incorporated almost invisibly into the Elmhurst Art Museum, connected to the main building by a 15 ft corridor constructed in 1997. The museum's latest exhibition, 'McCormick House – Past, Present, Future', stages the entire house as a private single-family home with mid-century modern furnishings.

The exhibition, curated by interior architect Robert Kleinschmidt, expands on an installation from 2018, when Kleinschmidt staged the house's Children's Wing with period décor. It also represents a continuation of an ongoing project launched in 2017 to restore the house to something approaching the original design by architect Ludwig Mies van der Rohe, including removing the corridor.

'Rob's exhibition will help our guests understand its domestic scale through period furniture and illustrate its history as a residence,' says John McKinnon, the museum's executive director.
McCormick House is comprised of two modular units measuring 2000 sq ft, and was constructed as a prototype for mass-produced modular homes to be located in the western suburbs of Chicago. However, the innovative structures proposed by co-developers Robert Hall McCormick III and Herbert S. Greenwald failed to attract a sufficient number of buyers, and construction never began.

McCormick and his wife, poet Isabella Gardner, lived in the home from 1952 to 1959. In 1961, Arthur and Marilyn Sladek moved in with their family and remained there until 1963, when Ray and Mary Ann Fick moved in till 1991. The house was left empty until 1994, when it was moved to its present location adjacent to the museum, which had purchased the house and used it as its administrative offices from 1997 to 2015.

Highlights from the exhibition include weekly tours on Sunday afternoons from 15 September – one of the guides is a former resident of the house. A lecture, 'Preserving the Modern Home' by architectural historian Susan Benjamin, is scheduled for 5 October and a panel discussion, 'Preserving Chicago's Glass Houses', is scheduled on 26 October; both offer context and celebrate Chicago's lasting architectural legacy.
INFORMATION
elmhurstartmuseum.org
Receive our daily digest of inspiration, escapism and design stories from around the world direct to your inbox
Audrey Henderson is an independent journalist, writer and researcher based in the greater Chicago area with advanced degrees in sociology and law from Northwestern University. She specializes in sustainability in the built environment, culture and arts, policy, and related topics. As a reporter for Energy News Network since 2019, Audrey has focused her coverage on environmental justice and equity. Along with her contributions for Wallpaper*, Audrey's writing has also been featured in Chicago Architect magazine, Next City, the Chicago Reader, GreenBiz, Transitions Abroad, Belt Magazine and other consumer and trade publications.