Middle eastern star: Jean Nouvel's Louvre Abu Dhabi makes its grand debut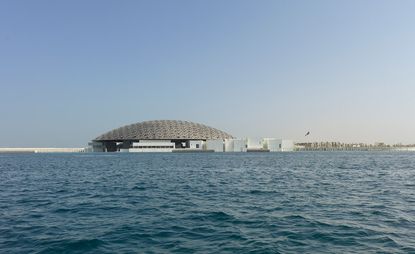 (Image credit: Roland Halbe)
Wallpaper* Newsletter
Receive our daily digest of inspiration, escapism and design stories from around the world direct to your inbox
Thank you for signing up to Wallpaper. You will receive a verification email shortly.
There was a problem. Please refresh the page and try again.
Perched on a tip of land that juts out into the sea on Saadiyat Island, Jean Nouvel's Louvre Abu Dhabi has the appearance of a hovering spacecraft that has arrived from a distant universe. Its armour-like domed roof, measuring 180m in diameter, is made up of eight interlocking layers of aluminium and stainless steel that as you get closer, reveal themselves to be made up of a framework of star shapes – 7,850 to be precise, each one unique.

The museum, which has been under construction since 2006, is the first building opening on Abu Dhabi's ambitious Saadiyatt Island – a £20 billion cultural hub that when complete, will include five major museums and galleries including a Guggenheim by Frank Gehry, a performing arts centre by Zaha Hadid, a Maritime Museum by Tadao Ando, and a National Museum by Foster + Partners. Nouvel admits that 'all have been delayed at different times and different periods over the past few years', including his, which suffered a three-year delay caused by the global financial crisis.

Underneath its dominating dome a series of white concrete cubes house the museum's various galleries and functions while a series of steps and walkways form the public space. Sea surrounds and infiltrates the museum, creating a sort of traditional Falaj canal that forms emerald pools and rivers around the white cube buildings.

The Louvre Abu Dhabi is what Nouvel refers to as 'a total design', as the project offered his studio the chance to build not only the shell, but also the interiors, furniture and all the details in between.

The entrance lobby, bright white with sharp angles and various ceiling heights, is not particularly grand. A series of strategically placed large windows frame views of the building's various internal pools, waterways and courtyards, while curvy, ribbed, black leather seating – also designed by Nouvel – furnishes the space. 'I wanted to create something a little like a Chesterfield,' says Nouvel of the leather-upholstered pieces that were made in Italy by Poltrona Frau. 'Very simple, sober and solid. You can sit and work on them. As a designer I am always seeking simplicity, that is my way.'

It is only when leaving the enclosed lobby space and stepping into the building's open centre, eyes drawn upwards by its mesmerizing domed ceiling, that it really takes your breath away. The contrast is sharp and unexpected. Here in its centre, dappled sunlight filters through the dome's layers to create what Nouvel likes to refer to as 'a rain of light' that changes quickly throughout the day as the intense sun tracks overhead. It provides a significant amount of shade – just 1.8 per cent of the light from the sky gets through. A cool breeze flows in under the dome, which curves down to the horizon, revealing a strip of turquoise sea all around.

Made using an algorithm, the roof's tangled framework alone took six years to build. 'The width of the branches is different depending on the area,' explains Hala Warde, Nouvel's partner architect, as we walk through the space. 'They are thinner where more light is needed and thicker in others where we needed shade.'

'We made large scale physical models to get it right, first at 1:33, then 1:1, and with every iteration the design was adjusted,' she explains. 'The amount of light that came in from the sides was something we didn't anticipate, so the edges of the roof had to be densified and the granite floor had to be changed to black basalt around the perimeter. By making these adjustments we managed to reduce the amount of light from 5 per cent to 1.8 per cent. A lot of adjustments were made to reach this point.'

Nouvel had in mind a 'medina' when designing the museum – an urban typology of walled, maze-like parts of a North African city that he has been studying since he won the competition to design Paris' L'Institut du Monde Arabe in 1981. For the Louvre Abu Dhabi he wanted to create 'a city within a city' that draws inspiration from the medinas' narrow and shady streets, their souks, low-lying buildings and the way light is filtered through screens.

Around the central space under the great dome, various stepped areas descend into the water functioning like town squares or plazas, providing places for visitors to sit and take in the vastness of the Louvre Abu Dhabi. All around, the 12 permanent galleries mirror the layout of a traditional Arabic souq. Housed in a network of white cubes, they are divided into four wings that take up 9,200 sq m of the building's 87,000 sq m footprint, Inside, Nouvel says he wanted the interiors, which house 600 artworks, to be 'a succession of noble spaces; every gallery is its own building'.

Once within the clean white gallery spaces, the vast star-covered dome fades into the background, only to be glimpsed at through windows, and instead the visitor becomes submerged in the art. Dimensions are suitably palatial, layouts follow a formula and materials vary depending on the space. For instance, all gallery floors are paved with stone modules framed in bronze, but the type of stone in each gallery is different and correlates to the period of the artworks on show.

'The museum's collection is variable and will change over time, so we needed to design in a amount of flexibility,' says Nouvel. 'It's designed to accommodate evolution. In the future it could be that they can add one, two or three additional buildings into this "city", but with continuity so it belongs to the same architecture.'

Gallery walls provide hanging flexibility with all subsidiary equipment easily concealed within special wall slots. Vitrines and display cases designed by Meyvaert in Ghent, Belgium feature slick opening mechanisms that allow the displayed artworks to be easily switched over without disruption.

Skylights and lateral windows flood gallery spaces with filtered natural light, including zenithal lighting in some spaces - where glass mirrors capture the sunlight and direct it inside, while scattering rays to avoid glare. A stable environment is maintained using a specially developed control system that cannot deviate by more than one degree from 24 degrees centigrade or 5 per cent humidity range.

In the building's all-black auditorium, which will eventually frame a spectacular view of the new Guggenheim to the west, Nouvel's atelier installed a bespoke auditorium seating system called Close. The seats of these slick black leather chairs fold up to sit flush with the arms, while seat numbers are embossed onto the top of back rest – a perfect example of Nouvel's quest to seek out simplicity.

In addition, Nouvel has created an op art-inspired café that from one angle looks white, and from the other is full of colour. Meanwhile the restaurant draws upon Arabic motifs, which have been engraved into Corian panels. Both café and restaurant feature specially designed furniture as well as adapted or customised pieces from Nouvel's many furniture collaborations with brands such as Emu, Molteni, Dedon and Figueras.

'This building belongs to the territory, it belongs to the history, to the sea, to this climate,' reflects Nouvel on the Louvre Abu Dhabi. 'Every part of this building links to Arabic culture. The idea is to have enabled more than a building; it's a little city with its own micro climate.'
INFORMATION
For more information, visit the Jean Nouvel website and the Louvre Abu Dhabi website
Receive our daily digest of inspiration, escapism and design stories from around the world direct to your inbox
Harriet Thorpe is a writer, journalist and editor covering architecture, design and culture, with particular interest in sustainability, 20th-century architecture and community. After studying History of Art at the School of Oriental and African Studies (SOAS) and Journalism at City University in London, she developed her interest in architecture working at Wallpaper* magazine and today contributes to Wallpaper*, The World of Interiors and Icon magazine, amongst other titles. She is author of The Sustainable City (2022, Hoxton Mini Press), a book about sustainable architecture in London, and the Modern Cambridge Map (2023, Blue Crow Media), a map of 20th-century architecture in Cambridge, the city where she grew up.