Gathering pace: the 2016 London Festival of Architecture reveals its programme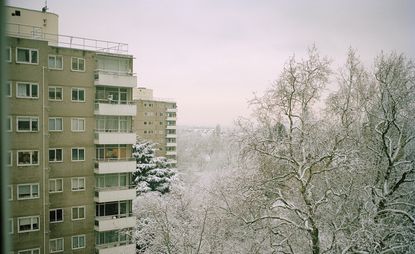 (Image credit: Sharon Oneill)
The London Festival of Architecture launched its 2016 program today, unveiling plans for hundreds of events all over London. Pictured here, the exhibition 'Blueprint for Living', to be held at the Fitzhugh Estate in Wandsworth, explores the concepts of home, space, community, architecture, social housing and post-war British modernism.
Since its conception in 2004, the London Festival of Architecture has provided the perfect platform for a city-wide opportunity to celebrate the capital's thriving architectural scene. Now marking its ninth year, the festival has blossomed, transforming from a bi-annual, 10-day affair into an annual, month-long showcase, highlighting the country's top architectural talent through a series of exhibitions, talks, and open studios.

With London in the midst of an unprecedented period of change, the city faces an ongoing dialogue concerning its urban future and how it will continue to evolve, regenerate and accommodate its expanding population. This year's installment, which takes place throughout the month of June, will present a programme of over 200 events centered around the theme of 'community', providing a welcome connection between the capital's residents and its ever-growing architecture scene.

The LFA's programme revolves around six thematic groups. Events within 'International Comparators' will investigate London's relationship with its international counterparts; 'New Communities' will explore the city's newest regenerative projects; 'Creative Workspaces' will question an area's ability to engage and inspire the capital's creatives; meanwhile, 'Housing Estate Regeneration','Green Communities', and 'Community Effort' events will set out to discover the way in which campaigners and volunteers create change, the immediate effects of the inner city housing crisis, and how communities can change with the introduction of green areas.

Deconstructing and examining the notion of 'community', the LFA aims to capture the city's diversity and and its multiple layers with its comprehensive programme. Highlights include 'Architecture on screen', a series of screenings held at the BFI; 'Papers', a one day event regarding refugee culture organised by the Architecture Foundation and held at the Barbican; and 'The Art of Designing Civic Spaces', where speakers from the Battersea Development company will join Kai-Uwe Bergmann (partner at Bjarke Ingels Group) to discuss the firm's involvement in the development and their approach to formulating public spaces.
'Open Garden Estates' will be a weekend long event consisting of a series of tours hosted by housing estates across London, which are threatened with demolition by developers, local authorities and housing associations.
'Breaking Down Walls: new ways of approaching creative workspace' is a panel discussion that will explore the new and different ways of approaching creative workspace in London. The panel will be led by Bow Arts head of property Michael Cubey
'Co-working and Co-living', a talk held at the Trampery in Old Street, aims at bringing together architects and experts to discuss communal environments and the challenges posed by the shift from single-occupier offices to communal workspaces.
'Constructing Communities', held in the Peckham Levels and organised by RIBA, will be an installation showcasing projects that have taken a fresh look at how architecture can strengthen community engagement.
The architects behind the 'Sky Pool' at Embassy Gardens, will give a talk detailing their a transparent swimming pool which will connect two buildings at Embassy Gardens at 35m high
'The Milkshake Treehouse' in Peninsula Square will be a 'sensory garden' and a family event space that provides a series of experimental environments to stimulate, heal and support growth
INFORMATION
The 2016 London Festival of Architecture will run between the 1- 30 June. For more information visit the LFA website (opens in new tab)