Letter from Portugal: we chart the country's new wave of architecture projects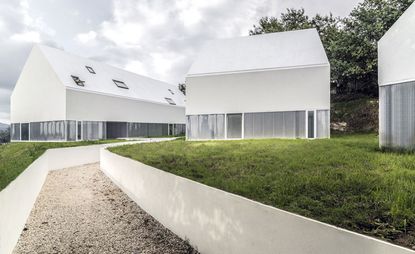 (Image credit: TBC)
From a small temporary bar in Porto, to a Pedestrian Escalator in Montemor-o-Velho and a large Arts Centre near Chaves, the featured projects in our report of the most recent architectural undertakings in Portugal vary as much in scale as in agenda.
See more of Portugal's latest wave of architecture projects
Some of them are designed by established architects - such as Gonçalo Byrne and Pritzker Prize winners Siza Vieira and Eduardo Souto de Moura - whereas many of them were created by younger offices that tend to take on varied multidisciplinary, temporary and smaller scale work in response to Portugal's current turbulant financial situation. A key example and a project that positions the architect as a critic, curator and activist, is the Tanto Mar exhibition curated by Lisbon-based Ateliermob. The show, currently on display at the Cultural Centre of Belem (opens in new tab), celebrates works by Portuguese architects operating all over the globe.
Projects like a small church in Pedras Salgadas, a discreet but charming cultural centre in a traditional praça in Lisbon, and a spiritual hotel in Penafiel, add to the kind of exciting smaller-scale operations taking place throughout the country. On the other hand, Lisbon's Future Architecture Thinking (FAT) and New York architect Louise Braverman's Arts Centres, as well as Byrne and Souto de Moura's cultural undertakings are amongst the larger projects - mainly in the cultural field - that were recently completed in Portugal.
Many of these works deal with delicate issues, such as the restoration of fragile urban fabric and heritage buildings threatened by ruin and decay. Alternatively, many of the more temporary interventions are more concerned with ideas and ventures responding to the country's current status. Portugal may be well known for its enviable weather conditions and beautiful natural and urban surroundings, but it is also conditioned by current political and economic tensions. This highlights even further the energetic and creative way local architects engage with the country's ongoing debates around its built environment.