Poland's architecture scene is evolving from brutalism to brand new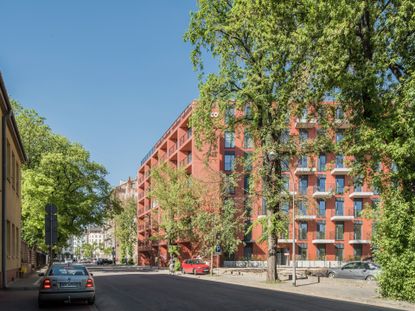 (Image credit: Juliusz Sokolowski)
In Poland, history and politics are played out in architecture. From the pre-Second World War bullet-marked apartment blocks, and the Communists' functionalist ideas, to the office high-rises representing those early years of wild capitalism, it's all there in the built environment.

Warsaw was almost entirely razed during the Second World War, so it's the brutalist architecture that attracts visitors, says architect Grzegorz Mika, along with the modern avant garde, inter-war period, and the social realism of the 1950s and 1660s. 'After the war, plans to redevelop the city centre were quite avant garde but in 1949, social realism was introduced and original ideas were abolished', he explains.

Nowadays, shiny corporate towers are still going up in empty plots – because, unlike some Western capitals, Warsaw still has bomb damage – while older areas, like the river bank, and heritage buildings are going through what the locals call 'revitalisation'
That includes Defilad Square, in front of Stalin's Palace of Culture and Science. Designed by Russian Lev Rudnev in the 1950s, the art deco complex was loathed for many years by the Poles, but it's gradually finding favour and its 2,800-seat Congress Hall is now being renovated.

Few big-name internationals have done much in Warsaw, put off, says Mika, by low fees and complex bureaucracy. One exception is Polish-born Daniel Libeskind. His Złota 44 – at 52 storeys Europe's tallest residential building – completed in 2017. Meanwhile Foster and Partners is working on Varso Tower with local firm HRA. Like Złota 44, it's near the Palace of Culture. It is due to complete in 2020.

While the city is being developed, many architects bemoan the lack of urban planning and zoning. But among the chaos are gems of good design in the capital and beyond, and these endeavours are now bein supported by the Adam Mickiewicz Institute, which promotes design and architecture. As the institute director Krzysztof Olendzki points out, Polish architects don't only operate at home. 'Canada, France, Italy, Germany, Africa – they're everywhere'.
Sprzeczna 4 apartment building, Warsaw, by BBGK
In the four years since it was established, BBGK has grown to be 50-strong, making it one of the most successful 'new generation' firms. Co-founder Wojciech Kotecki is out to improve the image of prefabricated buildings. They had a bad name under socialism because of the poor quality of large-panel housing estates. But BBGK's eight-storey apartment block Sprzeczna 4 was completed in 2017 from components made in Polish factories.