Amsterdam's progressive architecture scene sees the rise of HQs, hotels and new neighbourhoods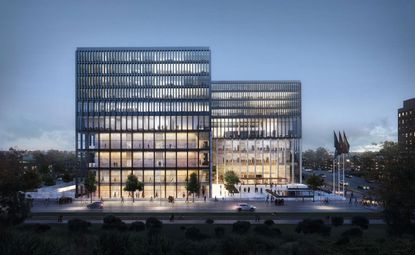 (Image credit: press)
Being small, progressive and outward looking hasn't scared away business from Amsterdam. The city's bold plans for expansion into former docklands and wastelands – triggered, in part, by innovative technology for building on and under the waterlogged earth – have enhanced its appeal among international businesses looking for a Western European base.

Furthermore, Amsterdam's high standard of living and ease with English have generated a Brexit Bump. The latest organisation to relocate here from London, the European Medicines Agency, is building vast headquarters in the growing Zuidas business district.

All this activity has had a knock-on effect on infrastructure: hot hotel launches are routine these days, and last year a new North-South metro line began connecting Zuidas with the burgeoning Noord area.
New Courthouse by KAAN Architecten

Public bodies prone to scandal often turn to transparent architecture as a symbol of openness. Open to scrutiny, Amsterdam recruited KAAN Architecten to rebuild the existing law courts in Zuidas, a growing business district south of the centre toward Schiphol Airport. Highly visible from outdoors in and vice versa, the new building cultivates an atmosphere of trust and confidence within the justice system.

Vast banks of glass make it exceedingly user-friendly, too – easy and safe to navigate, flooded with natural light and clean air. KAAN is also currently at work on a new glassy terminal for Schiphol Airport.
Nhow RAI Hotel by OMA

With the bulk of Amsterdam's corporate architecture rising from Zuidas, housing visitors is an issue. Nhow's new hotel by the RAI convention centre, due for completion next year, will be the largest in the Benelux region, with 650 rooms above a two-storey lobby and lounge.

OMA's Reiner de Graaf designed the structure with three triangular volumes, echoing the surrounding Europaplein. Each of the three volumes pivots atop the last, with the highest supporting conference facilities with views over the Amstel River into town. A TV broadcast studio at 91 metres, will be available to residents and guests.
Crystal Houses by MVRDV, Buro de Binnenstad and RDAI

On Vondelpark's swankiest shopping street, PC Hooftstraat, architects MVRDV reimagined two heritage Dutch shopfronts with glass bricks. As they climb up the building, the glass bricks gradually dissolve into the traditional terracotta, creating an unusual ombré effect. Early tenants blocked off the first floor with a blind wall, but this year Hermès brought the entire property to life, hiring Buro de Binnenstad and RDAI to revive the entire façade and redesign interiors dominated by natural light.

The French label moved into the two levels, surfaced with interwoven Hermès-orange tilework. Passers-by can now appreciate the brick graduation for the first time, and see through the transparent façade to a sweeping wood staircase and silk scarves framed like artwork.
Oosterdokseiland by UNStudio

A reclaimed industrial island linked by bridges to Centraal station, Nieuwmarkt and the emerging Noord district will serve as Amsterdam's newest 'urban campus' – one of the largest infrastructure projects on the continent. To pull together the various elements, the city enlisted local firm UNStudio.

They've designed sharp, glassy low-rise headquarters for the likes of Booking.com and Vodafone, interspersed with landscaped public piazzas and residential blocks, all due for completion by 2021.
Noord-Zuidlijn stations by Benthem Crouwel

Few cities are less conducive to underground tunnelling than Amsterdam, with its feeble soil and high water table. Its six-mile North-South metro line, unveiled last year, culminates 30 years of planning, engineering research and excavation (the latter unearthing hundreds of thousands of archaeological objects).

Local practice Benthem Crouwel designed all seven new stations according to the space allocated, but linked them with a palette of steel and glass with splashes of colour. Banks of glazing create natural-light beacons to guide riders out to street level. From Zuidas to Noord, the stations form an underground art route, showcasing new works commissioned to highlight the particular neighbourhood.
Three Generation House by Beta

When urban planners convert postindustrial land to residential, Amsterdammers are often given architectural free reign. The Noord-based office Beta took full advantage with this mini-apartment block designed to accommodate one family's multiple generations. The imposing north-facing façade gives little away.

Only from the south aspect do you notice the fluid indoor-outdoor feel of the ground-floor live-work space, and the series of stairs and voids that travel upward.

A lift rises through the core to deliver the elder generation to the upper levels, which overlook the IJ river to central Amsterdam
Floating Pavilion by zU-Studio

Further north, on a former shipping island where new residents were given carte blanche to design their own terraced housing, zU-Studio has begun construction on a restaurant pavilion that floats atop an old warship. Razor-thin steel walls – inspired by the curious angles of Richard Serra's weathered-steel sculpture in Amsterdam's Museumplein – inform the space like a house of cards

Wide glazed panels between them afford views across the IJ river and invite in shafts of natural light and shadow. The pavilion will open next year with an open kitchen in the decomissioned wheelhouse.
Science Park by MVRDV

Science Park isn't just home to University of Amsterdam's science faculty; it's also a hub for tech start-ups, data centres and medical research. Recently it's enlisted MVRDV to design a new, sustainable lab complex devoted to combatting climate change. The open stairwell encourages collaboration and the flow of ideas.
Science Park by Benthem Crouwel

Meanwhile Benthem Crouwel has designed its new wood, glass and steel building for the Faculty of Science with a modular grid, whose materials can be shifted, disassembled and recycled. Labs devoted to robotics and game design will be encased in glass and visible from the exterior.