Letter from Chicago: our survey beyond the city's architecture biennial
Experiencing a rebirth at a scale not seen for decades, we survey beyond the city's architecture biennial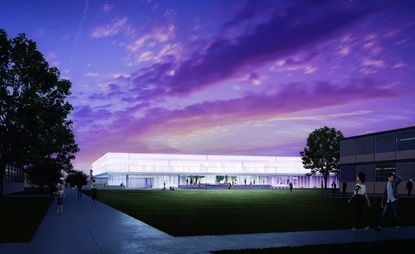 (Image credit: TBC)
Last weekend Chicago launched the United States' first-ever Architecture Biennial (opens in new tab), continuing through the rest of the year and showing off the art and ideas of more than 100 global designers.

The event has arrived at a perfect time for a legendary architecture metropolis that is experiencing a rebirth at a scale not seen for decades. Painfully dormant during the recession, Chicago has emerged with some of the most noteworthy new architecture in the country, and a cityscape that is being substantially altered through ambitious infrastructure changes.

Part of this transformation involves timing: Both George Lucas and President Obama just decided to house their new museums here, injecting a new wave of energy and possibility. But things were humming prior to these announcements, such as plans for bold new high rises by Rafael Vinoly, Cesar Pelli, Studio Gang, Helmut Jahn, and John Ronan. The city has just completed significant new landscapes like Maggie Daley Park, on The Loop, and Northerly Island, on the lakefront. It's revamping its river for recreation, created the 606, a raised, view-rich path moving through much of the city, and it's improving many of its transit stations.

'Things that were unheard of here are now happening,' said Chicago architecture critic and urbanist Lee Bey. Bey points not just to the economic recovery, but to increased public appetite for ambitious architecture and urban design. A good indicator: Attendance at the Biennial's opening exceeded any previous day at its venue, the Chicago Cultural Foundation.

Leading the way are relatively new faces, many of them featured in the Biennial itself. They're led by architect Jeanne Gang (opens in new tab), who has built many of the city's most important new structures and landscapes, and has emerged as one of the most sought after architects in the world. Around her a new generation is emerging from inside Chicago, and elsewhere. Gang, for example, says she has seen a substantial rise in applications from around the country in the last year or so. Work is also returning for Chicago veterans, who are working on a scale that was recently considered impossible.

'It's the first time that I've heard contractors talk about labor shortages or material shortages,' said architect Larry Kearns, principal at Wheeler Kearns Architects (opens in new tab).

And despite early signs that he might not stress design, Mayor Rahm Emanuel (opens in new tab) is stepping up, pushing forward the Biennial, and playing an integral part in the plans to revamp the city's river and transit system.

'It's a really exciting time in Chicago,' said Biennial artistic director Sarah Herda (opens in new tab). 'There's a palpable energy.' She added that the Biennial should contribute to that momentum, injecting fresh ideas and talent, and catalysing a dialogue about how to move forward. 'We have an incredible architectural legacy, and we want vibrant contemporary architecture,' she said.