Letter from Chicago: keeping up with construction in the Windy City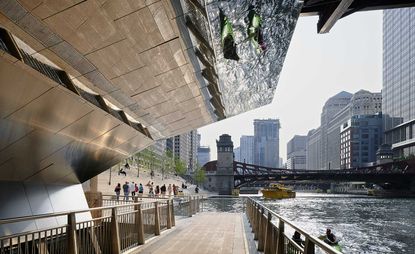 (Image credit: Kate Joyce Studios)
Chicago boasts a stellar place on the international architectural map because of its pre-eminent role in the development of modernism and the invention of the office skyscraper, something that has transformed the skylines of cities worldwide. After the most recent 2009 recession the Windy City has seen a renewed construction boom and a flurry of high rises are in the works (currently over 50 are in the pipeline).

Though many of these projects are functional as opposed to outstanding, Chicago still punches head and shoulders above many of the rest in terms of architectural literacy, innovation and sheer feats of structural and design ingenuity. Notable examples include the jaw-droppingly tapered base of 150 N Riverside and the graceful ellipses cut into the base and top of 640 North Wells, both mega commercial projects that enjoy prominent riverfront locations.

Though long neglected and even actively avoided the Chicago River has continued its gradual comeback into the life of the city. The recent completion of the 1.5 mile Riverwalk (opens in new tab) project has seen locals and visitors flock to walk, jog and spend time in its redesigned riverfront pathways and squares. The past few years has also seen the inauguration of other impressive urban public amenities such as the 606 elevated bike-pedestrian trail (Chicago's 2.7 mile snazzy take on the High Line that is both loved but also critiqued for its effect on real estate prices in Chicago's Northwest Side) and a series of attractive and sinuous pedestrian bridges (some yet to be completed) that connect the neighbourhood of Bronzeville to the city's much-loved lakefront and promote the use of cycling.
Jeanne Gang's City Hyde Park apartment block completed in 2015 disrupted the Chicago block vernacular. Studio Gang are set to complete the upcoming Vista Tower in 2019.
In residential terms all eyes are on Jeanne Gang's upcoming supertall Vista Tower in Lakeshore East (completion is slated for 2019). The talented Chicagoan architect has a knack for designing buildings that are visually interesting, structurally expressive and, as odd as this may sound for a tall building, accessible and personable. Though on a completely different scale her recently completed 14-storey City Hyde Park apartment block has also added a welcome injection of inventiveness into the apartment block typology; the unique structural solution used not only creates charismatic facades filled with trapezoidal shapes but also bays, sunshades and balconies designed to enhance interaction between residents.

It's a fact not widely known about Chicago (outside the city) that its theatre scene is second only to New York's and a hotbed of actors testing their mettle on stage! It makes sense therefore that one of the world's most pioneering theatre spaces should open here. Chicago Shakespeare Theater Yard theatre opened in late 2017 and is one of the most flexible theatre venues ever created. More on this, and others below.
Washington Wabash CTA station, 2017, EXP

A major transit hub that replaces two previously existing stops – and the first new Loop elevated stop in 20 years – the Washington Wabash project uses recycled structural materials and features an undulating reptilian canopy that protects users from the elements and was created by using steel ribs of different lengths and angles. LED lights at the tip of the roof's ribs emphasise this curvature even further.
The Riverwalk, 2016, Ross Barney Architects

The third phase of this 15-year-long riverside revitalisation project aimed to 'return the river to Chicago and return Chicagoans to the river' and completed at the end of 2016. The 1.5 mile long riverwalk is composed of a series of dynamic walkways with stainless steel canopies under bridges and six landscaped public spaces or 'conceptual outdoor rooms' that allow people to interact with the waterfront in different ways, from the educational and ecological to the recreational and commercial.
The Yard at Chicago Shakespeare, 2017, Charcoalblue and Adrian Smith + Gordon Gill Architecture

The Chicago Shakespeare Theater company unveiled its third venue on the city's iconic Navy Pier, a repurposed tented stage transformed into a pioneering and ultra-flexible indoor theatre featuring nine mobile audience seating towers and offering at least 12 possible configurations. The new space is linked to the old one by a two-storey wavy glass lobby that can be made more or less reflective and plays with the very theatrical notion of who's viewing whom.
150 N Riverside, 2017, architects: Goettsch Partners, engineers: Magnusson Klemencic Associates

After sitting vacant for decades the thin ribbon of land at 150 N Riverside now features this striking 54-storey office tower wedged between the Chicago River to the east, rail lines to the west and two viaducts to the north and south. The tower responds with a core-supported structure and impressive cantilever on either side of the base. Because of the comparatively small footprint of the building the project features a riverwalk and a 1.5 acre public park as well. LEED Gold certified.
640 North Wells, 2017, Hartshorne Plunkard Architects

This 23-storey residential high rise in the trendy River North district features a three-level residential lobby, 251 units and a panoramic rooftop pool. Aside from LEED Silver-certification one of the other most interesting things about this building is the way it avoids being a flat box by featuring a shift in floor plate every two to three floors and balconies. A knock-on effect of this welcome flight of design fancy is that many of the units feature outdoor balcony space as a result.
City Hyde Park apartments, 2015, architects: Studio Gang, engineers: Magnusson Klemencic Associates

With its patterned grid of bays on the north façade and cantilevered balconies on the south façade designed to promote social interaction this 14-storey project attempts to reinvent the monotony of the city apartment building, and does so for a relatively modest budget of US$119m. Its angular zig zagging design expresses its structure of stacked concrete panels that replaces conventional columns and allows for greater spans between columns inside.
Shirley Ryan AbilityLab, 2017, project team: HDR and Gensler in association with Clive Wilkinson Architects and EGG Office

A pioneering 27-storey research hospital where doctors, scientists and patients with brain and spinal injuries and nerve, muscle and bone diseases work together in the same space. With a taut glass façade that features a series of folds or pleats on the northern facade (a metaphor for the disruption in one's life represented by these illnesses) and thoughtful uplifting graphics in the different labs and the entrance overhang (designed so that people coming in ambulances get to enjoy the view too), this is a rehab facility with a difference.
41st Street and 43rd Street bridges, 2018 and 2019, architects: Cordogan Clark & Associates, engineers: AECOM

These two sleek and elegant pedestrian bridges linking Bronzeville to the lakefront are smaller projects that will have a major impact on the local community. The first is a brand new crossing and completes this year, the second replaces an ageing bridge and opens at the end of 2019; both will feature double-curved arch mono-trusses and curved snaking forms that bring to mind the undulating pathways of Chicago's early parks designed by landscape architect Frederick Law Olmsted.
41st Street and 43rd Street bridges, 2018 and 2019, architects: Cordogan Clark & Associates, engineers: AECOM

A dramatic S-shaped suspension bridge for pedestrians and cyclists designed by structural engineer John Hillman links the same neighbourhood at 35th Street to the lake and completed in November 2017.
River Point Chicago, 2016, architects: Pickard Chilton, structural engineers: Magnusson Klemencic Associates

A 52-storey 1,050,000sq ft office tower located at the confluence of the Chicago River's north, south and main branches is the first such major project downtown in seven years. In addition to its prominent riverfront site, it is notable and distinctive for the parabolic arch at its base (echoed in a shallower one at the top) that is both visually alluring and necessary in order to avoid neighbouring train tracks and fit in the wedge-shaped site.