Leading architects join forces to revive the MacDonald Warehouse in Paris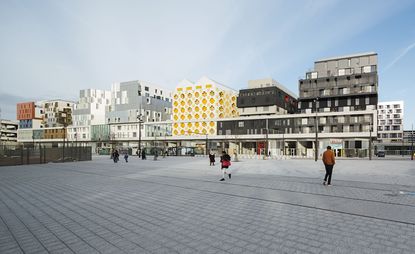 (Image credit: Cyrille Weiner)
The Macdonald Warehouse, Paris's extraordinary logistics facility, was designed by Marcel Forest and opened in 1970. The large footprint of this 617-meter-long structure, which equals in size the Island of Saint-Louis, formed for several decades one of the urban 'barriers' that almost cut off an entire sector in North-Eastern Paris. However, today, this warehouse – A.K.A. Entrepôt Macdonald – has evolved into a catalyst for change, as part of the ongoingGrand Urban Renewal Project (GPRU) that aims to improve life quality in Paris's neglected areas.

Forest saw his design as type of architectural 'aircraft carrier', upon which further buildings could be constructed, yet it's only now that his vision is being fully realised. Rem Koolhaas and Floris Alkemade won an international competition in 2007, proposing a master plan for repurposing the warehouse into a micro-urban complex with private and public housing, offices, schools and retail stores - all this together would account for 15 per cent of the entire development potential of Paris' North-Eastern sector.

The scheme became crucial for the area's revival. A large development across the road might have never been possible without the redesign of this landmark building. Moreover, the project has helped to put an end to the area's isolation from the rest of the city as it sped up the construction of a new rapid transit station and facilitated the extension of Paris's circular tram line, which now cuts directly through the complex.

The structure's extraordinary length was maintained and topped with a diverse range of buildings designed by fifteen French and international teams including Kengo Kuma, Odile Decq, Christian de Portzamparc, Julien de Smedt and Gigon/Guyer. Floris Alkemade (recently named the Netherlands' Chief Government Architect) explained how the master plan treated the existing design – once considered 'ugly and difficult' – as heritage that should be both respected and enhanced by contemporary elements.

The coordination team, led by Alkemade and Belgian architect Xaveer de Geyter, established a set of design guidelines that helped to balance a sense of coherence with creative freedom. The orderly, boulevard-facing North facade incorporates the concrete latticework of Marcel Forest's design, while the South facade, overlooking the new train station and the future public garden, was meant to be more spontaneous.

A true city within a city, the Macdonald Warehouse is being completed in phases. People have already moved into many of the residential parts. Kengo Kuma's school and gym, as well as the airy office block designed by François Leclerc and Marc Mimram, and the student residence in the ultra-narrow building by l'AUC – Djamel Klouche are in full operation, while ground-floor stores and restaurants should follow suite in April. The apartment blocks alone will offer a home to 3000 residents, with up to 10,000 users and visitors planned to keep the 'Macdo' alive during working hours.
INFORMATION
For more information on OMA visit the studio's website