Education and activism meet at New Practice's revamped Kinning Park Complex
Scottish architecture studio New Practice launches the revamped Kinning Park Complex in the Southside of Glasgow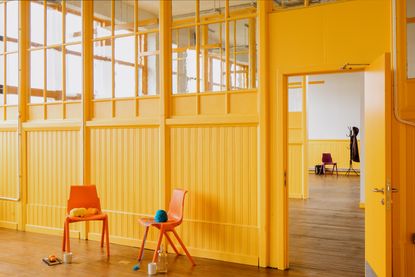 (Image credit: TBC)
After a successful bid for a £1.2m grant from the National Lottery Community Fund in 2017, emerging Scottish architecture studio New Practice builds on an important history of education and activism to revitalise this early 20th-century local asset in the Southside of Glasgow – welcome to the refreshed Kinning Park Complex.
Originally built as an extension to the former Lambhill Street school in 1916, the building had undergone several changes in use and ownership since the school's closure in 1976, including as a neighbourhood centre run by Strathclyde Regional Council, which in turn closed in 1996. At that point, local mothers who relied on the building for childcare joined forces with campaigners in the area to occupy it for 55 days, leading the council to hand keys back to the community for a modest rent; both the building and the organization that runs it became known as Kinning Park Complex.
For its latest chapter, this resilient building, which has served its communities and been protected by them for more than 100 years, has prompted an architectural response that 'centres on accessibility and heritage to ensure longevity' through adaptive re-use and conservation of materials.
A central tenet of the proposal was to make the most of Kinning Park Complex's heritage and existing structure to create functional, flexible, and accessible community and creative workspaces across all three storeys of the building. Key to the success of this was the opening up the original double-helix staircase to aid with visibility, safety, security and access. This also created opportunities for an enhanced understanding of the space, allowing natural light to filter in from the existing rooflight.
Access and wayfinding are enhanced through use of colour, with each floor painted using tones found in the building's original plasters. This ensures that users with needs ranging from mobility and health concerns to English as a second language are able to navigate the floors independently. A new platform lift ensures level access throughout.
As a 'radical organization that is [at the same time] a place of comfort', Kinning Park Complex's refurbishment shows that even a building that was designed more than a century ago can be adapted and re-used to accommodate a diverse intersection of human needs, from community and citizenship to creativity and physical and mental wellbeing.
INFORMATION
new-practice.co.uk (opens in new tab)