Adrian Cheng's art-meets-retail K11 Musea in Hong Kong embraces the digital world
A galaxy of architects, artists and designers have joined forces to create an out-of-this-world art and retail complex with millennial appeal in Hong Kong. The immersive 'phygital' shopping experience rethinks the city's ubiquitous, inward-looking megablock malls, aspiring to become a 'cultural Silicon valley'.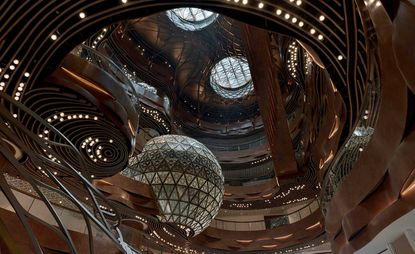 (Image credit: Hoshing Mok)
On a late evening in July, billionaire Hong Kong developer Adrian Cheng points a laser beam at a single light bulb, one of 1,800 scattered across the ceiling of the 35m-high atrium in his newest and most ambitious project yet. The atmosphere Cheng wants to create is that of a sparkling galaxy, and this is best achieved through a diverse range of lighting intensities, so he is identifying each light and adjusting their illumination one by one.

The process is painstaking, but Cheng has spent ten years considering almost every detail of his bold new ten-storey retail-and-art complex, designed to appeal to brand-savvy millennials. The project is very personal. K11 Musea is the last segment of the ambitious US$2.6bn Victoria Dockside cultural district on a 28-hectare site on the Tsim Sha Tsui waterfront. Originally known as Holt's Wharf, the district was an important railway hub before it was bought in 1971 by Cheng's grandfather, the local hotel and property magnate Cheng Yu-Tung, who turned it into New World Centre, a retail, hotel, residential and office complex.

It was closed in 2009 to allow for the redevelopment, which already includes a 65-storey Tony Chi-designed Rosewood flagship hotel, the K11 Atelier office tower, and the 21-storey K11 Artus residences, with interiors by architect André Fu. K11 Musea, camouflaged with a 5,000 sq m living garden façade, is the collaborative effort of 100 architects, artists, craftsmen, conservationists and designers, working with James Corner Field Operations and Kohn Pedersen Fox. 'I don't think one person can do everything, so that is why we have so many designers and one person – me – to pull it together,' Cheng says of this unusual, multi-designer approach.
Part of Cheng's vision includes rethinking the city's ubiquitous, inward-looking megablock malls by creating well-designed connections between K11 Musea and the harbour-front public promenade, upgraded as part of the project. A 100m-long, 40m-wide and 8.4m-high 'visual corridor', a strategic opening lined with butterfly-shaped panels that can be programmed to create special lighting effects, now links Tsim Sha Tsui and the water. 'K11 Musea is the core that holds Victoria Dockside together,' Cheng explains. 'It is a hub. I think of it as a cultural Silicon Valley.'

The project's sustainability credentials are impressive, including gold certifications by Leed and Hong Kong Beam Plus. There's significant green space, with vertical green walls, a rooftop kitchen garden and playgrounds, as well as urban biodiversity exhibits of rare and local plants, and a top-floor aquarium that reflects the harbour's aquatic life. Rainwater harvesting provides 100 per cent of the project's irrigation water, while a seawater-cooled, oil-free heating, ventilation and air-conditioning system reduces energy consumption.

Inside, K11 Musea continues its divergence from generic luxury retail offerings with an immersive 'phygital' shopping experience that Cheng says embraces the digital world. 'We don't see digital retail as the enemy. Both [physical and digital] worlds are key to being relevant in the future.' Cheng should know: he has spent the last decade combining retail with a beguiling mix of craft, heritage, design and creativity at his K11 shopping malls in China and Hong Kong.
This philosophy has been extended to several of his high-end residential and office projects. Together with the findings of a K11 task force that researches what Generation Z, millennials, and Generation Alpha (born after 2010, the year Instagram and the iPad launched) super-consumers in Asia want, it underpins his belief that the way forward is for K11 Musea to be an ultra high-end, experiential retail, art, cultural and dining destination. Exclusive, bespoke products will be on offer from the likes of MoMA's first permanent store in China and Moda Operandi's first showroom in Asia. K11 Musea will also house Van Cleef & Arpels' first permanent School of Jewellery Arts outside Paris. 'We only pick stores that have craftsmanship or heritage and, at the same time, are innovative and embrace technology in a serious way. These are the ones that millennials feel are relevant,' says Cheng.

Online services include in-mall mobile digital guided tours, an app enabling customers to click and collect purchases and navigate the art, architecture and furniture on show. There are also plans to add a digital graffiti canvas where visitors can create their own artwork. 'Millennials want to connect and be with like-minded people. They just buy and spend in their own pattern,' Cheng explains.

Inside, the look is decidedly luxurious. Walls are clad with intricate arrangements of curved ribbon-like aluminium panels finished in a natural rust effect. Inspired by the site's industrial past, a striking chandelier of tangled iron tubes, custom-designed by Maxim Velčovský, art director of Czech glass specialist Lasvit, pumps out steam at the 15m-high main entrance. Beyond that, in the vast atrium, a dramatic gold ball, 10.4m in diameter, is comprised of spherical chambers that will house exhibitions and events.
Outdoors, there are public artworks, a coffee kiosk designed by OMA with a 14m-diameter, 4m-tall inflatable disc that will act as signage to highlight major events, and a 185 sq m sunken amphitheatre with curved glass panels, a giant LED screen and a programmed water wall that will be used for K11 Musea's film festivals and live concerts. The street-facing façade features more green walls and a metal screen by Thai design studio P Landscape.

Contemporary art is a key feature throughout. Highlights include Elmgreen & Dragset's 9m-high Van Gogh's Ear (initially displayed outside New York's Rockefeller Center); a bright yellow Hot Dog Bus installation by Erwin Wurm; and Chinese artist Zhang Enli's Parrots of Five Colours, a specially commissioned artwork featuring a painted dome ceiling. Level three is dedicated to street fashion and graffiti, with an extraordinary cacophony of works by artists such as Adrian Wong, Ron English and Geng Yini. Meanwhile, Cheng's K11 Craft & Guild Foundation exhibitions will focus on traditional Chinese crafts in pop-up displays throughout K11 Musea.

It certainly doesn't feel much like a traditional shopping mall, and this is perhaps the most radical potential impact of the scheme: that it offers a serious attempt to break away from conventions and reconsider the traditional physical shopping environment. That in itself makes it astonishingly fresh and progressive.
As originally featured in the October 2019 issue of Wallpaper* (W*247)
INFORMATION
K11 Musea will open in autumn 2019. k11musea.com (opens in new tab)
ADDRESS
18 Salisbury Road
Tsim Sha Tsui
Hong Kong
VIEW GOOGLE MAPS (opens in new tab)