A modernist Hertfordshire house that causes 'puzzlement to the neighbours'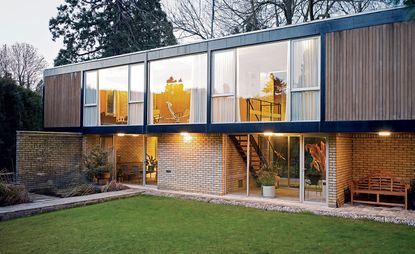 (Image credit: Marius W Hansen)
For more than six years, weekends for John Bonnington meant jumping into his car in all weathers and scouring every corner of southern England for a site on which to build his perfect family home. The young architect snooped around overgrown gardens, knocked on strangers' doors and quizzed locals until finally, in 1962, he found himself a tranquil, wooded plot in the grounds of a large country house in Hertfordshire.

The setting of a former rose garden might have been bucolic, but Bonnington had little interest in the traditional English image of a pretty country cottage. What he built was a stark steel, glass and brick house that, to this day, 'causes great puzzlement to the neighbours.'

What induces consternation in other residents, however, seems to entirely satisfy the owner, who still lives in the house with his wife, Esme. 'If I could go back to 1964, when it was completed, I would not alter a thing,' he says. Indeed, the house today is very little changed and appears almost newly built. The secret, confides Bonnington, is the way in which he designed it to be almost maintenance-free. 'I wanted to avoid the miserable business of painting the thing every few years,' he explains, adding that almost all the surfaces are exposed brick, steel, wood or glass. 'People often ask when I'm going to finish it,' he laughs.
Another clue to the exceptional condition of the house lies in his perfectionist nature. The design is based on a strict 3ft module. The fair-coloured bricks (chosen to contrast with the darkness of the surrounding trees) are 9in long and the steel members are all measured to a multiple of three. This exacting approach has meant that updating and altering the structure has always been a straightforward process.

The rationality of the architecture is, Bonnington says, something of a throwback to classical times. 'The workmanship and simplicity of Greek temples,' he asserts, has never been bettered.' But it was a rather more contemporary influence, that of the great Bauhaus architect Ludwig Mies van der Rohe, which really drove the design of the house. 'His architecture taught me about the elimination of superfluous detail.'

Bonnington visited the American offices of Mies van der Rohe early in his career, when he found himself working as a town planner in Memphis, Tennessee. Today, Bonnington runs a successful architectural practice that has designed buildings in 25 countries, but during his time in the US he was paid as little as $40 a week. So he begged and borrowed lifts across the country, glimpsing some of the best contemporary architecture of the period. His visit to Mies van der Rohe's workplace sadly did not result in an encounter with the man himself, but he was thrilled to see great sections of steel displayed with due reverence in the office.
On returning to the UK, Bonnington found work with one of the leading British architects of the period, Sir Basil Spence. His meticulous eye soon saw him appointed to do the detailing on such schemes as Spence's spectacular Coventry Cathedral. In 1964, Bonnington's work with the practice, as well as that of his colleague Gordon Collins, was recognised by the changing of the practice name to Sir Basil Spence, Bonnington & Collins.

Now, Bonnington is the proud owner of a 17th-century Grade I-listed mansion in Hertfordshire, a restored 15th-century chateau in the Dordogne, and an Arts and Crafts villa on the Cornish coast. It is the home that he built for his family, however, to which he most enjoys returning. Here, most of the furniture has been made to his own designs (Bonnington toyed with the idea of furnishing the house entirely with pieces by the likes of Arne Jacobsen but decided that even these classics of pared-down design were 'not simple enough for him'). Seeing him sitting on one of his steel and leather sofas, with the sun flooding in through the windows, he looks a picture of contentment. The several years of searching ceaselessly for the ideal spot, it seems, were clearly worth it. §

As originally featured in the September 2018 issue of Wallpaper* (W*126)
INFORMATION
For more information, visit the John S Bonnington Partnership Architects website