Stone love: ancient Galician granite conceals a rustic but refined architects' bolthole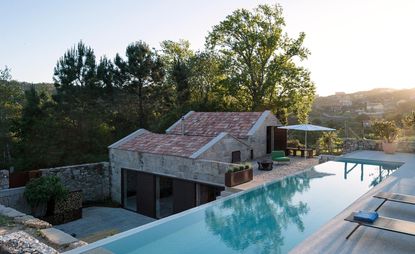 (Image credit: Ciro Frank Schiappa)
Architect Jamie Fobert's residential output has won multiple accolades. The Levring House, a complex multistorey modern mansion in London's Bloomsbury, was a RIBA National Award winner in 2015; while the Luker House in Barnes, with its restrained mix of polished concrete, plaster and timber, received a RIBA Regional Award the previous year. The prize for his latest project, designed with his partner Dominique Gagnon and situated on the edge of a nature reserve in the Galicia region of Spain, is that the pair will get to live in it themselves, at least some of the time. 'It's our getaway,' says Fobert. 'We feel ourselves relax the minute we get to Vigo, the nearest airport.'

The couple came across a ruin of a house outside the small town of Aldán back in 2004. 'We were trying to find a beach and stumbled across it,' says Fobert. 'We were both entranced. I thought that was the end of it, but Dom is very tenacious.' The house's ownership was traced to the proprietor of a local restaurant, who eventually agreed to sell in 2010, though planning permission wasn't granted until 2013. By July 2016, the house was sufficiently complete for Fobert and Gagnon to sleep there for the first time. Twelve years of development does suggest tenacity, indeed.

What is so striking about the house today is how little of it is on view in its lush surroundings of vines, canes, and sandy paths. In that respect, it is quite as the pair found it, with two original exterior walls – made of chunks of granite – kept in place, and the roof, which was long gone, replaced with locally produced tiles over chestnut, the local wood, which is exposed inside.
But walk through the Corten steel gate at the side, down a flight of granite stairs, and you come to a large courtyard. Inside the house, space for a kitchen and then a bedroom was made by burrowing into the hillside. On the upper floor is the master bedroom, which leads to the pool and garden. (In total, the house has five bedrooms, each with an en-suite shower room.) 'We had the right to restore the building and extend a bit,' says Fobert, 'but we didn't want to detract from the existing construction. That meant excavation, and working within the existing perimeter. It was important for us that what you see now as you approach the house is exactly what we saw on that day in 2004.'

Fobert has form with both excavation and cunning concealment. His Anderson House, delivered in 2003 (and winner of that year's RIBA Manser Medal), exploited a void on a residential block in Fitzrovia, into which he inserted a light-filled two-bedroom house, by digging down and cutting out window apertures wherever possible. The Levring House benefits from a newly created basement, which contains the pool, while much of his extension for Cornwall's Tate St Ives, set to open in October, is also buried in the hillside.

Back in Galicia, across the public path is a second building, a small shed that they initially took on as extra space – 'for bikes and kayaks', says Fobert. 'Getting planning for this turned out to be the most difficult thing,' says Gagnon, but now it is a separate dwelling, with a tiny kitchen and a mezzanine bedroom on top of the shower room.

Fobert is used to working with retail clients, such as Selfridges and Versace, and cultural commissioners including Tate, Kettle's Yard in Cambridge, and Charleston, the Bloomsbury Group's country idyll in East Sussex. (The last two projects, both additions to sensitive sites, should be completed in 2018.)
'It's the job of the architect to be responsive. You listen, particularly for the idiosyncratic,' he says. As an example, he points out that everyone wants a big kitchen, 'but the people who say they want to watch their children doing their homework while they do the cooking are giving you so much more information'. In Galicia, Gagnon's input was informed and substantial. Both he and Fobert studied architecture in their native Canada, and while Gagnon no longer works in Fobert's practice, here he took up the design mantle. 'Sometimes I was the client, and Dom made a lot of the design decisions,' says Fobert. 'Having two architects design a house, that was something I wasn't used to.'

Gagnon is keen to credit Fobert with the sequence of three floor-to-ceiling glass doors between the courtyard and the interior. 'We'd been working on the basis of one single large opening,' says Gagnon. 'And then we were walking in the country in Yorkshire, and saw a barn with three vertical openings. Jamie's very good at making connections between disparate situations. And now when we open the doors, we have three frame-free slots.' Corten shutters allow them to be completely sealed off when the house is not in use. Fobert, meanwhile, says that it was Gagnon who insisted on an outdoor as well as an indoor kitchen.

'He had a vision of cleaning fish and octopuses outside. And he was right,' he says. The market in nearby Cangas sells superb local produce, and outdoor dinners are frequent. In fact, the courtyard is the most important part of the house. With a granite floor and a simple chestnut table, it's where lunch is had in spring and dinner in summer. 'We thought it might feel too enclosed,' says Gagnon, 'but now it has the pleasant feeling of being both inside and outside. It's like a completely protected space with the sky for a roof.' On the hottest days, the stone walls retain heat and, as the temperature drops, provide natural evening warmth.

Water cascades down the courtyard's furthest wall from the pool, which is reached by a stone staircase that begins with unusually wide steps that turn into much smaller ones. 'It took a long time to work out, and feels like it's been there forever,' says Fobert. Surrounding the pool are existing pine trees, their lower branches trimmed to create an umbrella effect, and new ones, their branches weighted down so they will gracefully bend to the floor as they grow. There are new cork oaks and olives and curving paths lined in Corten that lead to where the car is parked. 'I look back, and I remember wondering if we were going to be like those Brits abroad on TV, who end up with some worthless piece of land,' says Gagnon. 'But the idea of coming back one day, and seeing that someone else had taken it on was even worse.'

As originally featured in the July 2017 issue of Wallpaper* (W*220)
INFORMATION
For more information, visit the Jamie Fobert Architects website (opens in new tab)