Shadow play: Estudio Galera's latest residential offering seems to float among trees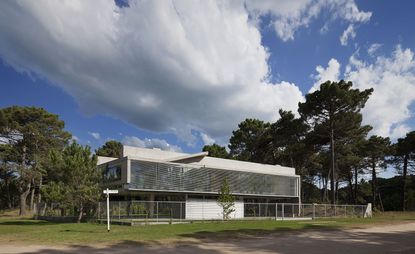 (Image credit: Federico Cairoli)
Casa Alamos, Architects Estudio Galera latest residential build, is nestled within the picturesque seaside town of Pinamar, Argentina. Sitting on a lot of just over 900 sq m, the home's concrete form and 'floating' main body makes a strong visual statement against its lustrous natural surroundings.

Ariel Galera, the studio's head, says that feelings of 'living, feeling, growing and enjoyment' were within the main themes that inspired him for the design. His approach comes alive in the property's many playful details. Bold use of materials, interplay between light and shadow, and creative use of space, showcases the architects' ability to have fun, while creating a top quality, highly functional family home.

The house appears to float above ground, and lifting it might make for a striking move but it was far from merely an aesthetic choice. 'Making the house float over the terrain was the key action that makes sense to the house', says Galera explaining that the absence of a ground floor helps create a sheltered outdoor area, which the whole family can enjoy to relax and entertain friends.
The minimalist ground floor provides the main access to the upper levels, also linking the house to the garden. Climbing towards the first floor, glimpses of the surrounding pines are visible through the breaks within the stairwell's concrete. The spectacular views of the surrounding nature only fully unfold when reaching the house's main living area. Towards the rear of the property lies the spacious master bedroom, accompanied by an en suite bathroom and an extending room divider that can create a separate playroom for the children when needed.

Light plays a pivotal role in the design. The architects studied the effect of the changes of light in each season; this informed the design in different parts of the house. Different visual elements were added to celebrate these changes, such as iron slabs with rectangular perforations that cast playful shadows within.

Concrete is the project's material protagonist. Polished concrete floors offset the rough textured concrete walls and are a welcome contrast to the home's warm wooden tones and sporadic flashes of marble. The addition of expanded polystyrene within the walls, cleverly helps regulate the structure's internal temperature throughout the winter and summer months.
INFORMATION
For more information on Estudio Galera visit the website