Colour pop: this bright red New Zealand house stands out in its leafy context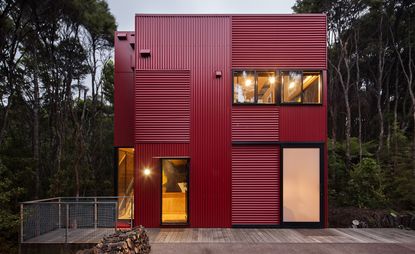 (Image credit: Simon Devitt Photographer)
Titirangi, a suburb on the western edge of Auckland and a renowned creative retreat, has an enviably high number of architect-designed houses. The Red House is the latest, designed for an artist and percussionist. At only 90 sq m, and with a tight budget, it works efficiently to provide all the practical needs of life, while expertly elevating everyday materials and using light to make a simple house rich and engaging.

Its red exterior sits in vivid contrast with the green of the bush, adding a burst of life and sense of the unexpected. Architect Ken Crosson of Crosson Architects has detailed inexpensive corrugated iron cladding in alternating vertical and horizontal patterns to break up the scale of the building, and produce a strong graphic and texture.
Take an interactive tour of Red House

Access into the red box is via an open pedestrian deck that doubles as a bush outlook, and which separates the house from the vehicle parking bay. An art studio sits next to the main entry, and is concealed behind a translucent sliding door allowing visitors direct entry to the studio. The ground floor also contains two bedrooms and a bathroom, which have views through the bush understory. A journey up through the treescape to the light starts from this cave-like ground floor.

The access staircase pops out from the southern wall of the building and ascends to the middle floor, a 40 sq m living space with expansive views of the surrounding bush canopy. A large skylight along the north-east wall brings in maximum light, with the strip windows evoking the sense of a lookout or hide. Pine plywood floors, ceilings and wall linings envelop the room, referencing the bush context in colour and texture.

The final leg of this treescape journey is up the southern stair to emerge onto the roof deck, open to the sky and with glimpses of the city. These three spatial shifts up through the bush – from understory, to canopy to sky – are dramatically interpreted by the building to celebrate its bush context and create a rich living experience.
INFORMATION
For more information on the architects visit the website (opens in new tab)
Photography: Simon Devitt Photographer (opens in new tab)