Blurred lines: a cascading Mexican house embedded in its hilltop setting
Blurred lines: a cascading Mexican house embedded in its hilltop setting
The picturesque town of Valle de Bravo in the State of Mexico, located on the shores of the artificial Lake Avándaro, is characterised by cobbled roads and traditional white stucco streetscapes with wrought iron balconies, projecting timber eaves and red tiled roofs. The high altitude sustains a warm, temperate climate, which, coupled with the scenic setting, has transformed the historical town and wider municipality into a cosmopolitan getaway, two hours' drive southwest of Mexico City.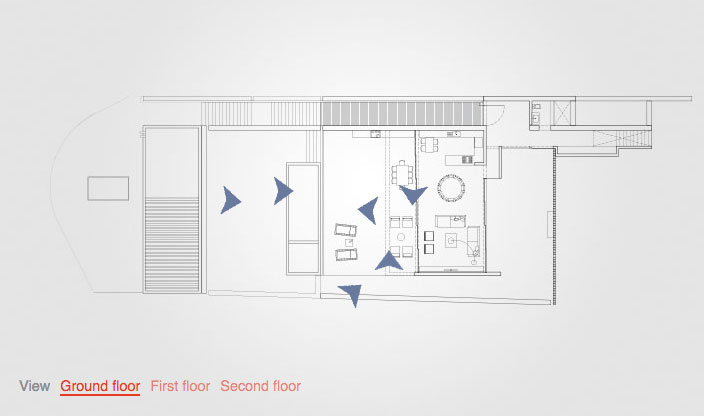 Take an interactive tour of Tucan House
Presiding over the surrounding hillside, Toucan House, a new 400 sq m single family home by Mexico City based Taller Hector Barrosa, elegantly cascades down the steeply sloping site in a series of four terraced volumes. The rectaliniar plot with an incline of 14m presented a challenge, resulting in the strategic arrangement of the first volume, a garage and store, to form a private frontage at the lower street level, with the three remaining volumes nestled into the undulating terrain behind it, maximising panoramic views of Valle.
Conceived as pavilions, the volumes are united by a dramatic linear stair along the western edge of the site, bound by the excavated rock face on one side and a masonry wall running the length of the house on the other. The pavilions are 'interrupted' by landscaped gardens, terraces, balconies and patios, dissolving the boundaries between architecture and landscape.
The open plan kitchen, living and dining pavilion is a semi-enclosed space floating on an elevated plateau, complete with a spacious terrace and swimming pool. The cantilevering roof plane is a nod to the projecting timber eaves of vernacular Mexican architecture, also adding a notable Miesian quality to the bold composition. The planar elements, including concrete and masonry walls separated by delicate panels of glass, and the striking exposed steel and timber structure of the over-sailing roof, abstractly evokes images of the Barcelona Pavilion and the Neue Nationalgalerie in Berlin.
The third pavilion, a stacked two-storey bedroom block, accommodates two en-suite bunked bedrooms opening onto individual gardens, with a generous master suite and second en-suite bedroom with private balconies on the floor above. Throughout the staggered arrangement, there is little differentiation between internal and external materials.
The house is completed by a fourth volume, a self-contained studio flat at the apex of the hill. The minimalist quality of the cascading pavilions provides the perfect platform for contemplating the glorious Mexican landscape.
Information

For more information on Hector Barroso visit the firm's website

Photography: Rafael Gamo