Pettanco House is a live/work space that showcases fine Japanese carpentry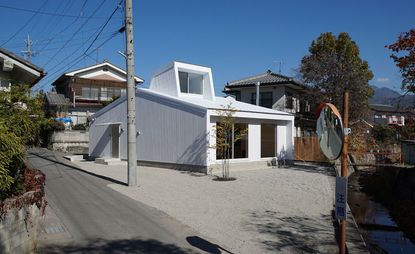 (Image credit: Yuji Tanabe)
Since the Edo period in Japan, the mountainous region of Matsumoto, Nagago (commonly referred to as the Japanese alps) has been renowned for its thriving wood industry. Considering the region's rich legacy in the field, when Yuji Tanabe Architects received the commission to design a house for a local wood craftsman, it was a no-brainer that the owner would collaborate on the construction, adding his own personal mark to his home and helping to build all the doors, eaves and posts.

With the client's budget constraints in mind, Tanabe and his team envisioned Pettanco House as a modern, open space with low ceilings and simple, minimalist detailing. The house's many wooden elements feature locally grown species, such as the Japanese Larch used for the structural frame.
Take an interactive tour of Pettanco House, Japan

The two storey construction was calculated using the Japanese module of ken - this is a commonly used unit in Japanese architecture (1 Ken corresponds to 1.82m).

The multi-functional space covers many needs. It is a practical and spacious family home, with two bedrooms and a bathroom on the ground level at the rear of the property. It is also a workshop, with studio space located above, on the first floor.

At the same time, the front portion of the ground level is home to an exhibition space, showcasing the owner's fine abilities in carpentry; this shares a kitchen and living area with the private family part. The overall stucture is served by two separate entrances, one at the south side of the property, used mostly for clients, and another on the west side, for the family members.

The structure's top floor, sitting under the gabled roof, features a large dormer window that floods the workspace with fresh air and light. Situated directly beneath it, at the heart of the property, is the house's wood burning stove, providing a cost-efficient and sustainable solution for heating the large, open-plan structure.
INFORMATION
For more information on Yuji Tanabe visit the website
Photography: Yuji Tanabe