Forever young: explore Tribe Studio's playful Bungalow extension in Sydney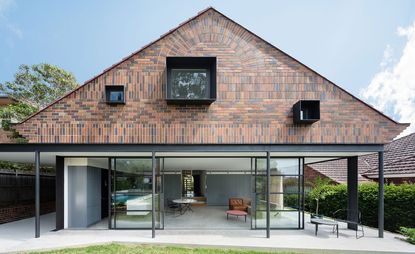 (Image credit: Kat Lu)
Sydney-based architects Tribe Studio have taken the unusual step of reducing the footprint of a bungalow, in their efforts to make it more spacious. House Au Yeung is typical of the tree-lined suburb of Roseville, 14km from the city centre on Sydney's North Shore. 'This house was a good, if modest, example of an inter-war house in the Olde English style,' says Hannah Tribe, who founded Tribe Studio in 2003. 'It's a vision of the Australian 'suburban utopia' of the 1930s, brick and tile family houses set wide apart in large gardens on generous streets.'

The young family who own House Au Yeung wanted it to work better for them. That involved making it more spacious and functional, with a better connection to the 362 sq m garden.
Take an interactive tour of House Au Yeung

Most of the changes, which took two years from design to completion, have happened at the rear and upstairs. The mish-mash of rooms at back let the house down, and didn't connect well with the garden. So Tribe replaced the rear ground floor with a new pavilion, reducing the building footprint slightly by 4sqm to 129 sq m. The back now in part houses a big open plan kitchen, living and dining room. And one of the original formal reception rooms at the front of the house is now the master bedroom and en suite bathroom. Meanwhile two children's bedrooms, a bathroom and playroom have been shoehorned into the roof extension, with its extended gable.

Tribe describes the house as 'whimsically and nonsensically detailed - with a bit of Tudor and a bit of California Bungalow style, there are all sorts of things going on.' To enhance that charm, the Miriam Green, Tribe's managing associate director, recreated the front elevation's brick sunburst feature at the back, while the lead light windows at the front are reinvented as steel window frames at the rear. 'It is a kind of material palette call and response between the public and private faces of the building,' Tribe adds.
INFORMATION
For more information, visit the Tribe Studio website (opens in new tab)